Overview

Reviews (4)

Comments (2)
TradeManagerPro
With this EA, you can efficiently control the most important part of trading - risk and money management.
It calculates the perfect lot size for your orders depending on the defined stop loss and sets the take profit at a defined Reward:Risk level.
The stop loss and take profit levels can be set easily with a line on a chart.
Why Is Reward:Risk So Important?
The only way to make profit in trading is to gain more than you lose. There are only two parameters which define it:
Both parameters depend on each other.
There is a simple formula to calculate your required Hit Ratio with a predefined R:R:
Hit Ratio = 1/(Reward:Risk + 1)
Example: Reward:Risk = 2:1 -> Hit Ratio = 1/3 = 33% -> You need to win only more than 33% of your trades to make profits.
That is how trading works. It is a simple Math.
General
Works for every instrument (Forex, indices, commodities, etc.)
Works for 4 and 5-digit brokers
Works for MetaTrader 4
Steal Mode for a stop loss and take profit -> a broker cannot see it -> no stop fishing possible
Functionality
Market order: 2 lines appear on a chart (blue, red)
Pending order: 3 lines appear on a chart (blue, red, yellow)
Panel
Order type: market or pending
Comission settings: comission per lot
Risk management: define how much you want to lose, whether in % of balance/equity or a fixed value, e.g. 45 dollars
Profit management:

Line -> you can set a take profit with a line on a chart
Reward:Risk -> e.g., if your stop loss is worth 45 dollars and your Reward:Risk is set to 2, your take profit will automatically set to 90 dollars

Trailing management:

Breakeven -> e.g., breakeven is set to 1:1 -> your stop loss will be moved to breakeven if your trade is in profit of 1 R
Trailing start
Trailing step

Trade information

Calculated lot size
Swap
Margin requirement for a trade
Spread
Input Parameters
Trade Setup
Slippage in Points -> when a slippage is bigger, the trade is not executed
Lines Color Setup
Color of Line for Sell StopLoss
Color of Line for Buy StopLoss
Color of Line for Send Pending Order
Panel Setup
Font Color
Background color
Select Color
Unselect Color
Scrool Bar's Border Color
Scrool Bar Color
Scrool Bar's Bottom Color
Buyers of this product also purchase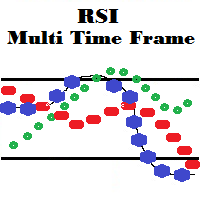 RSI Multi Time Frame
Thomas Michalik
The Relative Strength Index (RSI) is an oscillator that compares the magnitude of recent gains to recent losses in an attempt to determine overbought and oversold conditions of an asset. The RSI ranges from 0 to 100. An asset is deemed to be overbought once the RSI approaches the 70 level, meaning that it may be getting overvalued and is a good candidate for a pullback. Likewise, if the RSI approaches 30, it is an indication that the asset may be getting oversold and therefore likely to become u
FREE