Overview

Reviews

Comments (3)
Fractal Candlestick and Pattern finder PRO
Candlesticks and Fractals are the ultimate tried and tested trading strategy and this is the easiest and most comprehensive indicator for their use.
Every Candlestick and Fractal pattern you can think of is. Each can be adjusted with a sensitivity ranging from 1 to 100 and each can signal an alert if you so wish. The sensitivity range has been mathematically calculated so that 50 is what most traders will use. However once you have a successful trading system in place the sensitivity changing allows you to fine tune your strategies.
Input parameters:
If set to true the indicator will appear on the charts, if false it will not:
General Fractal Up
General Fractal Down
Perfect Fractal Up
Perfect Fractal Down
Hammer
Shooting Star
Marubozu Up
Marubozu Down
doji
Spinning Top
Dragonfly Doji
Gravestone Doji
Inverted Hammer
Hanging Man
Star Top
Star Bottom
Harami Down To Up
Harami Up To Down
Harami
Piercing Line Up
Dark Cloud Cover
The Following parameters will set the color of each indicator when it appears on a chart:
General Fractal Up Color
General Fractal Down Color
Perfect Fractal Up Color
Perfect Fractal Down Color
Hammer Color
Shooting Star Color
Marubozu Up Color
Marubozu Down Color
Doji Color
SpinningTop Color
DragonFly Doji Color
GraveStone Doji Color
Inverted Hammer Color
Hanging Man Color
Star Top Color
Star Bottom Color
Harami Down To Up Color
Harami Up To Down Color
Harami Color
PiercingLine Up Color
Dark Cloud Cover Color
The Following parameters if set to true will send an alert when the indicator appears:
General Fractal Up Alert
General Fractal Down Alert
Perfect Fractal Up Alert
Perfect Fractal Down Alert
Hammer Alert
Shooting Star Alert
Marubozu Up Alert
Marubozu Down Alert
Doji Alert
Spinning Top Alert
Dragonfly Doji Alert
Gravestone Doji Alert
Inverted Hammer Alert
Hanging Man Alert
Star Top Alert
Star Bottom Alert
Harami Down To Up Alert
Harami Up To Down Alert
Harami Alert
PiercingLine Up Alert
Dark Cloud Cover Alert
The Following parameters can be set between 0-100 with a default of 50. The higher the sensitivity the less often a signal will appear but it will be a more powerful signal.
Hammer Sensitivity
Shooting Star Sensitivity
Marubozu Up Sensitivity
Marubozu Down Sensitivity
Doji Sensitivity
Spinning Top Sensitivity
DragonFly Doji Sensitivity
GraveStone Doji Sensitivity
Inverted Hammer Sensitivity
Hanging Man Sensitivity
PiercingLine Up Sensitivity
Dark Cloud Cover Sensitivity
About Fractal, Candlestick and pattern finder:
This really is the easiest and most comprehensive indicator of it's type. Just add the indicator to a chart and set the parameters you want.
Please check out my website for a description of each candlestick and how to trade them.
Please also email me with any additions you think could improve this indicator and i will be sure to include them quickly.
ollie.loney95@gmail.com
Thank you Oliver Loney.
Buyers of this product also purchase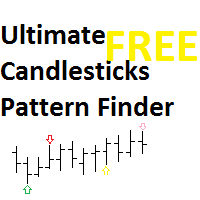 Ultimate Candlestick and Pattern finder FREE
Oliver Loney
Candlesticks are the ultimate tried and tested trading strategy and this is the easiest and most comprehensive indicator for their use. Input parameters: If set to true the indicator will appear on the charts, if false it will not: hammer shootingStar MarubozuUp MarubozuDown doji spinningTop dragonFlyDoji graveStoneDoji invertedHammer l hangingMan starTop starBottom haramiDownToUp haramiUpToDown harami piercingLineUp darkCloudCover The Following parameters will set the color of each indicator
FREE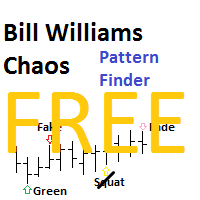 Bill Williams SquatGreenFadeFake patternFinderFREE
Oliver Loney
This indicator will signal when a squat, green, fade or fake appears. You can set the indicator to show only the signal you want it to show: for example if ShowSquat is true, the squat indicator will be shown You can set the color of each signal: for example if SquatColor is Blue, the squat indicator will be blue You can set whether a signal gives an alert: for example if SquatAlert is True, the squat indicator will give an alert You can set the sensitivity of change in MFI and change in Volu
FREE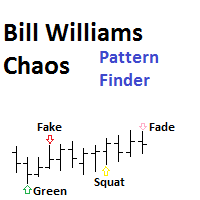 Bill Williams SquatGreenFadeFake pattern finderPRO
Oliver Loney
This indicator will signal when a squat, green, fade or fake appears. Indicator Parameters: MFIsensitivity - controls sensitivity of detecting a change in MFI. For example, 1.1 means 10 % change in MFI needed to signal. 1.5 means 50% change needed. VolumeSensitivity - controls sensitivity of detecting a change in Volume. For example, 1.1 means 10 % change in Volume needed to signal. 1.5 means 50% change needed. If set to true the indicators appear on the charts, if false they do not appear: S
10 USD