Overview

Reviews

Comments (42)

What's new
Consolidation Finder
The indicator allows to find consolidations. It is meant for channel breakthrough.
Easy to use, it has only three parameters:
Minimum number of bars to analyze
Consolidation tunnel
Indicator color
It works on all timeframes. Approximate settings are adjusted for H1 by default.
Works on all currency pairs.
This indicator does not repaint and is not recalculated.
All screenshots are real!
Buyers of this product also purchase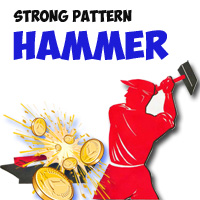 Strong pattern Hammer
Oleg Voitiouk
The indicator detects such strong patterns as Hammer and Inverted Hammer. It displays a list of currency pairs and a timeframe, where the pattern has been detected, in the upper left corner. If the Send Message mode is enabled, it sends messages to, for example, mobile device where the MetaQuotes ID is registered. Settings: Search on currency pairs - currency pairs for searching combinations Search on the time frames - timeframes where patterns will be searched Send a message (push) to mobile
39 USD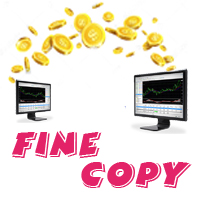 Fine Copy Orders
Oleg Voitiouk
An excellent and fine deal copyist! Copies from one or more source terminals to one or more receiver terminals. Convenient and quick to set up. Settings: 1. Type              Select the type of Master - source or Slave - receiver. 2. Lot                  Sets the lot for the Slave type. Orders will open with the specified lot, if the lot = 0 is the same as in the source. 3.  MasterLot         Allows you to set the lot size transmitted (on the side of the MASTER) by the master. / X -
30 USD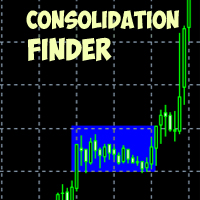 Consolidation Finder MT5
Oleg Voitiouk
Consolidation Finder   An indicator that allows you to find consolidation. To work on the breakdown of the channel. Easy to use, there are only three settings: Minimum number of bars to analyze Tunnel Consolidation Indicator color It works on  all timeframes  , by default, approximate settings for the H1 timeframe are set. Works on all currency pairs. The indicator is not redrawn or recalculated. All screenshots are real!
99 USD
Added consolidation accounting, both for Hi Low prices and Open Close.
On one chart, you can add several of these indicators.
Added alerts and push notifications.
Show info enable/disable.
Fixed an error of disappearance from the list of indicators.
Fixed operation with brokers having different number of decimal places.
Added the display of a spread, as well as price highs and lows in the consolidation channel.