Project Scope
- Modifying 2 indicators
- Creating 1 Custom Indicator
Indicator 1 - Modification
In the Chart
1. "Buy" word should be below the arrow.
2. "Sell" word should be above the arrow.
3. Create Major Support and Resistance line's (Would like a field where this can be modified to where you can choose how many you would like visible)
1. Support Lines should be a different color than the Resistance line (The colors should be able to be modified)
Left Panel
1. History Analysis calculations are not reporting accurate. Whenever the indicator is added to a pair the calculations are not correct.
2. Add the percentage for each $ (Each $ is Take Profit). Which calculate each time the Take profit has been reached.
3. Add a real time pip counter to visually show the amount of pips being counted from the entry price to the take profit while the order is activated. (Would love to see something creative to make this standout)
4. Create a minimize button for the Left Panel
5. Create a sound effect when the $ (Take profit) is reached. (Preferable a cash register sound)
6. Create a sound effect when the Stop Loss is reached. (Preferable a bull horn sound)
7. I want there to be a option where the colors of the characters can be modified
Everything in the square should not be visible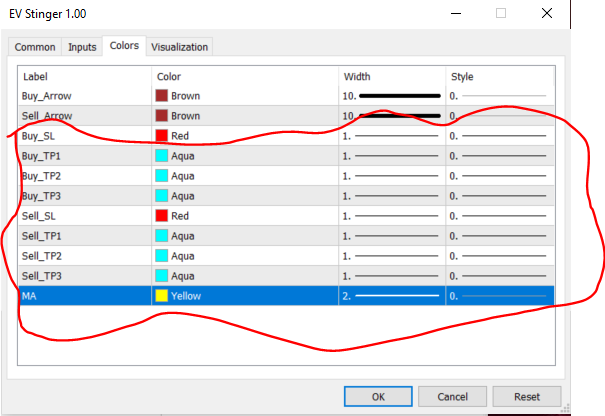 Indicator 2 - Modification
1. Adding Economic news that will be displayed on the charts
2. Create Scanner to recognize Chart patterns and draws lines to highlight the setups (Double Bottom, Double Top, Head and Shoulders, Inverse Head and Shoulders)
Indicator 3 - New Build
- Indicator will place a snake image at the bottom of the Tweezer Bottom or at the Top of a Tweezer Top
- The Tweezer Top and Tweezer Top will only appear at either the top of a trend or the bottom of a trend
- Snake will blink until confirmation is valid
- Candle size should be medium (option to modify needs to be available)
- Valid uptrend should be 10 candles (option to modify needs to be available)
-Valid downtrend should be 10 candles (option to modify needs to be available)
- Entry Point will be at opening candle
- Stop Loss will be be default to 40 pips (option to modify needs to be available)
- Take Profit 1 will be default to 20 pips (option to modify needs to be available)
- Take Profit 2 will be default to 30 pips (option to modify needs to be available)
- Take Profit 3 will be default to 40 pips (option to modify needs to be available)
- A Panel should be built to the left
1. Panel should show the latest entry point, Stop Loss, and Take Profits
2. Panel should confirm if the current market is in a downtrend, uptrend, or consolidation
3. Panel should display wins percentage and loss percentage
- Open to suggestions to optimization