Hi Everyone,
I want to build an EA with the following features which will usually start with identifying 3 basic conditions as follows; HIgh Price, Low Price and Start price. Also Gaps/ pips sizes will be part of the conditions inbuilt to EA.
Thanks and see steps and samples below
EXAMPLES OF STEPS ACCORDING TO RULES
1. DAY 1 HIGH- 7600
DAY 0- START PRICE- 7450
DAY 1 LOW 7350
2. Based on above, we have 3 price positions, Start price (7450), Day 1 High (7600) or Day 1 Low (7350).
3. Identify the initial Gap and extra Gap movements. 200/ 100
4. At 2, using the 3 data available, +/- Initial Gap with all the 3 positions. This will give us 6 new prices ie 2 prices per data. 7600=7800/7400, 7450=7650/7250, 7350= 7550/7150
5. At Day 2, the EA will identify the current price, as well as updating the changes in HIGH or LOW prices as market moves. It will then take a BUY bids for all prices above the current prices and SELL bids for all prices below the current prices. So if Current Price on Day 2 is 7380, then additional positions will be BUY= 7800, 7400, 7650, 7550 and SELL= 7250, 7150
6. After every new adjustments in Highest or Lowest prices, criteria will change for future bids. Highest Price will only be used to predict the SELL Bids, while the Lowest price positions will be used to predict the BUY Bids. So at High of 7600 for uptrend, Sell will be 7600-200=7400. At next move of 7750, it will be 7750-200-100=7450, at high of 7900, then Sell will be 7900-200-100-100=7500 etc. So at Low of 7350 for downtrend, Buy will be 7350+200=7550, At next move of 7250= 7250+200+100=7550, At 7000= 7000+200+100+100=7400.
7. Every new Changes in price direction will consider initial gaps (200) and additional gaps (100) for every next move based on the number of moves.
8. Bids will be made according to moves direction and positions update on the template. i.e. For SELL Bids/Positions, prices will only activate when current price is above the price position and market is about to fall back down, while for BUY Positions, prices will activate when the current market price is below the position, and the market movement is moving back up.
So for uptrend, when price moves to position C and comes down to D, it will activate a BUY when price is below D. Provisions can however be made to increase lot size as the new peaks activate eg A, C, E, G
9. DAY 1-3 Data are important and may give a direction at the beginning of the Month and also between DAY 7-10 Data as well.
It should be noted that this direction strategy will be active from DAY 1 to DAY 20/25 of the Period, as the last 5-10 days will usually be used to reverse back in most
IN addition for more process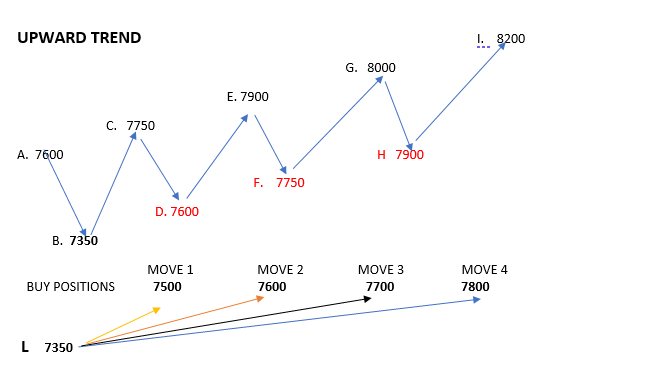 ADDITIONAL STEPS FOR UPTREND
If price starts at B-7350 low and moves to C- 7750 high, then SELL D will activate at 7600 and a BUY (Move 1) will activate at 7500.
If Price moves back up again above C-7750 to E- 7900 (New HIGH), then F- 7750 will activate a SELL and a BUY (Move 2) will activate at 7600
If Price moves back up again to above E- 7900 to G-8000 (NEW HIGH), then E-7900 will activate a SELL and a BUY (Move 3) will activate a BUY at 7700
If Price moves up to new High above G-8000 to I- 8200 (NEW HIGH), then H-8000 will activate a SELL and a BUY (Move 4) will activate a BUY at 7800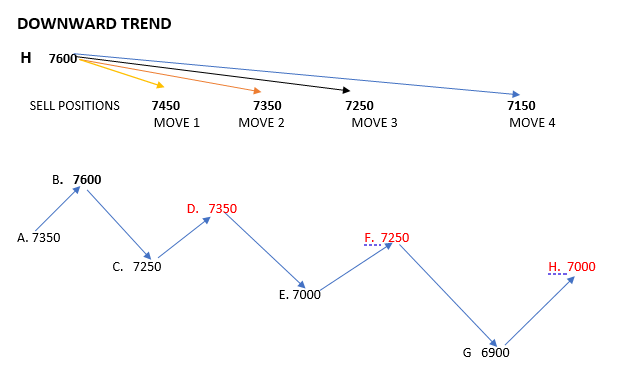 ADDITIONAL STEPS FOR DOWNTREND
If price starts at B-7600 High and moves to C- 7250 low, then BUY D will activate at 7350 and a SELL (Move 1) will activate at 7450.
If Price moves back down again below C-7250 to E- 7000 (New LOW), then F- 7250 will activate a BUY and a SELL (Move 2) will activate at 7350
If Price moves back down again to below E- 7000 to G-6900 (NEW LOW), then E-7000 will activate a BUY and a SELL (Move 3) will activate a SELL at 7250
Any Future move will activate a move up above and a correspondence downward move as well.
This concept will identify the day 1 High and Low from the beginning of the period.
Using the DAY 1 HIGH and LOW PRICES, the BUY and SELL positions will be identified. So Anytime the market price comes into the range of the circle as drawn above, A BUY will activate as the market goes above the range and it will be such that every time the market bid activates, it must increase the pip size from the previous bid whether the Buy or Sell.
Any new bid will only activate after a certain period of time from previous first bid/last bid as I determine. So for example if a bid of BUY activates now, I can set the next BUY bid to activate after 3 or 5 hours from initial one, except when there is no existing active bid for the new bid to activate immediately.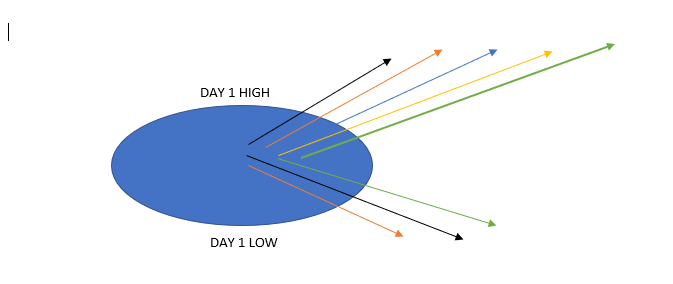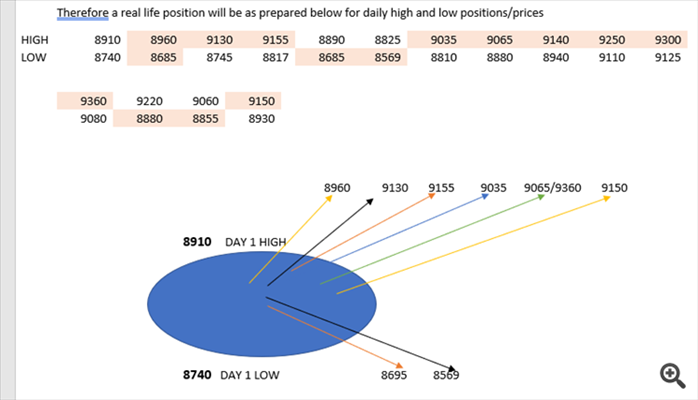 From the above picture and data, what it depicts is that on DAY 1, we have an High price of 8910 and a Low of 8740. So for each time the market comes within the range, it takes a BUY bid if direction is going HIGH or a SELL bid if direction goes LOW. Also every bid size will increase as bid or number of times it comes within the circle increases. Also for every time a bid activates, it must take a period of time for the next bid to activate on same direction, except the previous bid has closed whether manually or automatically.
In addition, another concept to look is to give or allow some internal gaps for everytime the market comes within the circle based on our own internal direction prospective. In this case, if internal gap is say 100 and our direction is upwards, then if a bid direction is coming from the top side of the market, then it can still activate a BUY bid at 8910-100 = 8810. So this will activate in DAY 3, and Day 7 for the extra bids.
Also for every bid based on the arrow above, the BUYS will be in bid size of say .1, .2, .3, .4, .5, .6, and SELL will be .1 and .2.
Thanks and Hopefully I believe this works better and less complicated than previous concept and will help monitor the price activation as well.
PLEASE NOTE THAT I WILL NEED AT LEAST 14 DAYS TO TEST THE EA FOR ANY IMMEDIATE ANOMALIES.
ALSO I WILL NEED AT LEAST 60 DAYS REVIEW AS I WILL HAVE TO TEST IT IN REAL TIME TO IDENTIFY ANY ISSUES AS MOST OF MY PREVIOUS CLIENTS BECOMES UNAVAILABLE AFTER PAYMENT THEREBY CAUSING THE ROBOTS USELESS TO ME.
SOURCE CODES WILL BE OBTAINED AT END OF CONTRACT
IMMEDIATELY AVAILABLE PROGRAMMERS ARE REQUIRED
PROJECT COST MAY BE SPLIT IN STAGES FOR TESTING PERIOD WHICH CAN BE BETWEEN 30-60 DAYS OF COMPLETION OF DEMO VERSION AND WILL BE PAID FOR AS AGREED BETWEEN US