Übersicht

Bewertungen

Diskussion
Digit Repeat SR
It is thought that repeating numbers in nature have a divine and magical presence. These patterns and synchronicities that appear in our lives can represent significance, so if you see a repeating sequence make a note of it!
In Trading, the repetition of numbers can be found in price. It's no coincidence that around these levels that contain the repetition of numbers that price reacts significantly around. This indicator allows you to plot areas that contain repetitions and edit how many repetitions must be present in price. Just apply it to a chart a see for yourself how price reacts around these areas! They make for great support and resistance levels. Use them alone or in conjunction with other SR levels for added confluence.
Parameters:
# of Duplicate Digits: The number of times a digit has to repeat. Entering 3 means a number has to repeat 3 times in a row (x.xx222), entering 4

means a number has to repeat 4 times in a row (x.x2222), etc.

Display Labels: Turn Labels on or off.
Label FontSize: Enter the font size for the labels.
Label Bar Offset: Offset the labels "X" bars back.
Line & Label Color: Choose the color for the lines/labels.
Line Style: Select the style for indicator lines.
Line Width: Enter the width for indicator lines.
If you have questions, comments, or suggestions, please reach out to me.
Happy Trading,
Alexander
Käufer dieses Produkts erwarben auch
Weitere Produkte dieses Autors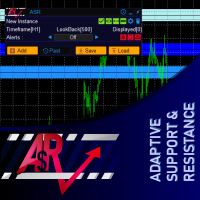 Adaptive Support and Resistance Demo
Alexander Honegger
This is a demo of the original ASR Indicator and will only work with AUDUSD. For full access  purchase the indicator here. If panel is not displaying correctly,  visit here on instructions  to fix scaling issues with MT4. If you wish to run in the tester for a visual of how indicator paints lines over time,  download this file  and place in indicators folder for testing. Input parameters will match instance settings. Become a better trader by knowing areas where price tends to react at to set u
FREE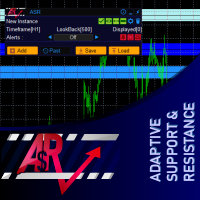 Adaptive Support and Resistance
Alexander Honegger
Become a better trader by knowing areas where price tends to react at to set up safe entries and exits. ATTENTION:  Panel will not work in the strategy tester. For a fully functional demo that you can apply to a live chart or a version you can test in the strategy tester,  please visit this link  to access demo page. If panel is not displaying correctly,  visit here  on how to fix scaling issues with MetaTrader. ASR 's unique multifactor calculation will provide you with the most essential leve
60 USD