Übersicht

Bewertungen

Diskussion (1)

Neue Funktionen
Trend Analyzer by MagicK
TrendAnalyzer represents an easy-to-identify trend with flat-graphic that use existing data to improve the clarity of trading chart for better profit margins.
It relies on the past data (Exponential Moving Average Cross Signals) and (Fibonacci Golden Ratio) to help determine the direction of the market, and also effectively eliminate the noise in the market.
Why use an exponential moving average? Because it is sensitive to price volatility and reversal reactions.
It analyzes market movements in a data-driven way and has a powerful insight in the market.
| DIRECTION | COLOR | REPRESENTATION |
| --- | --- | --- |
| UP TREND | LIME COLOR | POSSIBLY BUY |
| DOWN TREND | PINK COLOR | POSSIBLY SELL |
| SIDESWAY | MESSY COLOR | ----------------- |
Tip: TrendAnalyzer should not be used alone and needs to combine other technical analysis indicator to avoid false signals.
Here I wish all traders: "Successful Market Analysis, Get Profit Every day".
How do use MagicK indicator? Please Watch the video below: 👇👇👇
(It's combined with MagicK_TrendAnalyzer and MagicK_TrendChannelAnalyzer indicators to make trades)
-----------------------------------------------------------------------------------------------------------------------------------------------------------------------------------------------------------------------------------------------------
-----------------------------------------------------------------------------------------------------------------------------------------------------------------------------------------------------------------------------------------------------

TrendAnalyzer是通过平面图形来创建一个易于辨认的趋势指标,它利用现有数据来提高交易图表的清晰度,得到更理想的获利空间。
它依赖于过去的数据(指数移动平均线交叉信号)与(斐波那契黄金比率)来帮助判断市场走向,也可以有效地消除市场上的杂音。为何使用指数移动平均线?因为它对价格激烈波动和逆转反应较为敏感。
它以数据驱动的方式来分析市场走势,也拥有对市场上表现出超强的洞察力。
| 趋势 | 颜色 | 代表 |
| --- | --- | --- |
| 上涨趋势 | 荧光青 | 考虑为多单 |
| 下跌趋势 | 浅粉色 | 考虑为空单 |
| 盘整趋势 | 凌乱色 | -------------- |
温馨提示:TrendAnalyzer不应该被单独使用,需要组合不同的技术分析指标才能够避免假信号。
在这里祝大家:市场分析成功,天天获利。
如何使用MagicK指标?请观看以下的视频: 👇👇👇
( 它是结合MagicK_TrendAnalyzer与MagicK_TrendChannelAnalyzer的指标来做交易。)
Käufer dieses Produkts erwarben auch
Weitere Produkte dieses Autors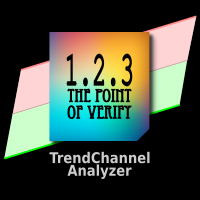 Trend Channel Analyzer by MagicK
Lee Teik Hong
TrendChannelAnalyzer is the basic concept of "Support and Resistance" in technical analysis in financial markets including equities, foreign exchange, gold and cryptocurrencies. What is support and resistance? From a basic point of view, when the price comes to an impossible break level, the horizontal line becomes some kind of obstruction.  In the case of "Support Line", the price is the lowest price, In the case of "Resistance Line", the price is the highest price.  And also think about Suppo
49 USD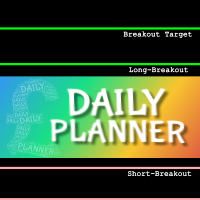 Daily Planner by MagicK
Lee Teik Hong
What is intraday trading? - Focus on the current day's price fluctuations and make short-term profits with narrow stoploss. We believe DailyPlanner indicator is ideal and perfect for intraday trading.    Features: - Provide Daily Resistance line and Support line - Price level for Long-Breakout and Short-Breakout - Breakout Targets  Recommended: Use on the 5m or 15m timeframes across all currency pairs. Tip: DailyPlanner should not be used alone and needs to combine other technical an
30 USD
Fixed bugs and faster creating of the internal calculation