Übersicht

Bewertungen

Diskussion
PRO Expert Larry
This Expert performs trades automatically in favor of major trends, based on different setups by economist Larry Williams. For a greater safety of the investor, the trades are automatically closed either at the end of the trends or when Take Profit or Stop Loss levels are achieved. Furthermore, the Stops are automatically defined by the Expert Advisor and no position in held without defined Stops.
Additionally, the user can define a trading window, avoiding trades out of the booked period and automatically closing the open positions at the moment the trading window is surpassed. The Expert can be optimized to any symbol and currency, besides any graphical timeframe, guaranteeing full adherence to the investor's trading profile.
A new order volume is automatically calculated by the Expert, based on the risk margin setup by the user and the Stop levels calculated to the trade. This procedure aims a natural evolution of the trades according with the account performance. The safety of the user's account is also improved through the choice of the 'Margin Call' levels, guaranteeing the Expert execution stop in cases of equity drop.
Widely configurable, the Expert allows to:
Trailing Stop Loss based on Setup 9 strategy
Trailing Stop Loss based on ATR indicator
Trailing Stop Loss with constant gap
Break Even
Double and Triple position partial close
Minimum return ratio to open a position
Enabling and defininf an trading window
Caution, perform all the required tests in order to ensure that this Expert fits your own risk management and also properly works with the symbol or currency and broker you have chosen. The Expert optimization is responsibility of the user, but we will be glad to support you as long as we can.
Käufer dieses Produkts erwarben auch
Weitere Produkte dieses Autors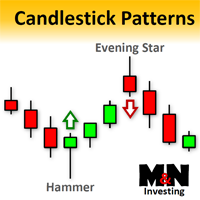 Candlestick Patterns Identification
Murilo Falleiros
The MT5 Candlestick Patterns Identification was developed to continuously identify both Bullish and Bearish candlestick patterns and, then, present them Graphically to the user. Therefore, offering support to the user during trades decision making through the exhibition of colored arrows and labels which will indicate the more probable price pathways! The algorithm of the  Candlestick Patterns Identification  utility is capable of automatically finding a total of 25 Single, Dual and Triple candl
30 USD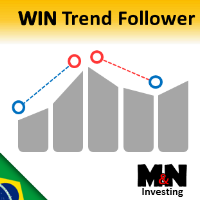 WIN Ibovespa Trend Follower
Murilo Falleiros
WIN Ibovespa Trend Follower The EA performs day-trade automatic operations in favor of the local up and down trends. For increased investor safety, operations are discontinued at the end of the initial trends or when the EA's Stop Loss level is reached. The Expert has been optimized for the Mini-Index Ibovespa until the year 2018 and since then has been applied in a real account with consistent performance and without high drawdowns. The number of contracts to be operated is constant and defin
40 USD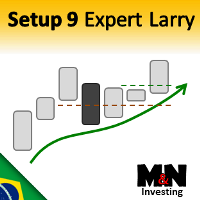 Setup 9 Expert Larry
Murilo Falleiros
Setup 9 Expert Larry This EA performs operations automatically in favor of local trends, with trading based on three different Larry Williams Setups (9.1, 9.2 and 9.3). For the sake of investor security, trades are automatically terminated at the end of the initial entry trends or when the EA's Take Profit or Stop Loss levels are reached. In addition, the user can enable and set the preferred trading window, avoiding orders outside the specified period (positions are also automatically closed ou
60 USD