Übersicht

Bewertungen

Diskussion (5)

Neue Funktionen
Mobile Lotsize
MOBILE LOTSIZE
This EA will Automatically take any ENTRY Orders in the market (BUYSTOP,BUYLIMIT,SELLSTOP,SELLLIMIT) placed at 0.01 Lotsize including ones sent from a mobile phone and alter the Lotsize, to your predefined parameters and add a Limit and Stop. Really good for Risk Management weather your at you desktop or out and about. Prefix Stopsize or Set up an Entry order with a stop and it will calculate the best lotsize for that trade. All pairs covered from one Chart.

Options for Risk Management
Percent of Account ( Risk 2% )

Fixed amount of Account Currency ( Example Risk £20 )
How to use :-
Open EA on a Single chart
Choose your fixed stop and limit size ( this is for if you dont send a order with a stop this will be the standard calcutaltion)
Choose Percent or Amount and place Figure in box Relative to your choice
Turn it On or OFF
If its on this starts the Hunt for Orders at 0.01 of a Lotsize through out all Currencies, so now any Entry Set up will be changed to you prefered Risk management.
!!! NOTICE !!!!!

This EA needs to be running on your Desktop for Mobile Orders to be altered.
If it works out that the correct Lotsize for your trade and risk is 0.01 it will not place a stop or Limit line

Käufer dieses Produkts erwarben auch
Weitere Produkte dieses Autors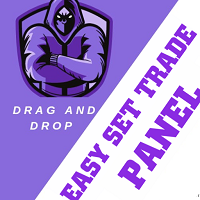 EasySet Panel
Joe Treacher
EasySet Panel Description - Simple to use discrete trade Panel to help with trade set up and Risk Management. Simply set you preferences and drag and drop the Entry, Stop and Limit lines to where you would like them, all Lotsize calculations are worked out for you automatically then all you have to do is press the trade button. Also Market Entry Option is available so just Set your Stop and Limit lines to enter your Market at price. Trading styles Covered :-  Percent of Account (  Example Ris
30 USD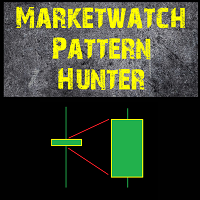 Pattern Hunter
Joe Treacher
Market Watch Pattern Hunter Advanced Panel/ Pattern Finder which searches all charts in your marketwatch window and alerts you to any chart that a newly formed pattern has occured. With its easy to use interface quickly go to that chart through the indicator and it highlights the candles over the History Period choosen by you. This is just the pattern formation it still requires you to use own analytics wether to trade these patterns. Pattern Hunter searches for the TOP 10 pattern formations :
30 USD
BUG FIXES :- will place stop and limit lines even if the correct Lotsize is 0.01