Übersicht

Bewertungen

Diskussion (2)
Multi Currency Pairs Martingale System
This is EA using the martingale and averaging strategy.
This strategy is low risk and high profitability than the normal martingale.
Weakness of Martingale is that the order lots increase at an accelerated pace, but also it reduces the profit if the first lot is small.
Therefore, to achieve low risk and high profitability by trading many currency pairs in parallel while small first lot.
How to use
This EA does not work with the default settings.
You can trade only symbols specified in the second screen shot (it is not possible to trade a different currency pair in the strategy tester).
By doing this you can trade multiple currency pairs in single chart window.
Minimum deposit: $10,000 or 10,000 Cents.
Parameters
lotMultiplier: This parameter is calculation of lot for the next position.
profitBoost: You will get a more higher profit when the high lot.
symbol1-50: Write the symbol name to be traded here.
takeProfitValue1-50: Distance to profit.
range1-50: Minimum range to averaging (Unit is points).
openOrder: If it is false, will not a new order (Use when closing out).
buyMagicNumber: Unique number 1.
sellMagicNumber:Unique number 2.
Käufer dieses Produkts erwarben auch
Weitere Produkte dieses Autors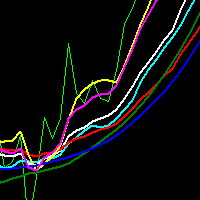 Moving average collection
Wataru Inoue
This indicator displays the moving average in the methods of many kinds. Parameters ma_period — Period of calculation for MA. ma_method — Method of smoothing for MA. ma_price — Price type of calculation for MA. time_frame — Timeframe for MTF. ma_shift — Period to shift the view buffer. alert — Alert mode. color_mode — Divide painted line to two colors. T3_f — T3 uses parameter(The default value is recommended). KAMA_x — KAMA uses parameter(The default value is recommended). KAMA_y — KAMA uses
10 USD
Breakout Scalping System
Wataru Inoue
Breakout Scalping System is the EA based on the breakout strategy. This EA will enter by detecting a breakout. You can use the default settings. Requirements Low spread M5 period 5-digit quotes EURUSD, GBPUSD Parameters useMM : Use money management. risk : Percentage of equity to trade. fixedLots : Lot size when you do not use the MM. spreadFilter : Maximum spread in points. magicnumber1 : Unique number 1. magicnumber2 : Unique number 2.
1 000 USD