Chock Hwee Ng
| 2018.01.22
Grid Hero took a nice profit from the Monday "Gap Up" (22 Jan 2018)...
If you're running Grid Hero since early last Friday, you should have some opened positions being carried over the weekend.
On 19 Jan, Grid Hero traded a bullish "Hammer" pattern which turned out to be a fake out. Grid Hero then proceeded to use its Averaging technique to close out the positions using the following Monday "Gap Up" on 22 Jan, making a nice profit out of this.
As you can see from this real live example, a conventional EA would have taken a loss in this scenario with its SL being hit, but Grid Hero used its Averaging Mechanism to completely turn this around into a nice profit instead. And you end up taking a profit instead of a loss.
This is the power of Averaging. Using Averaging on the Ebb & Flow nature of the market, is an extremely powerful formula, an unorthodox style.
PS: For those who just bought Grid Hero over the weekend, you will not see these trades because they are carried over from last Friday.
GRID HERO EA Product Page:
https://www.mql5.com/en/market/product/20937
GRID HERO EA FAQ:
https://www.mql5.com/en/blogs/post/689594
GRID HERO EA V9.3 FIFO vs Non-FIFO Video:
https://youtu.be/7F2hQFqIOhk
GRID HERO EA V8 13 Years Visual Back Test Video:
https://youtu.be/xIt2G-cYDHE
GRID HERO EA V6 Visual Back Test Video:
https://youtu.be/aBcesp-OTsU
GRID HERO EA V5 13 Years Back Test Video:
https://youtu.be/QuWqw2OY8ps
GRID HERO EA Live Signals:
https://www.mql5.com/en/signals/author/daveng
GRID HERO Myfxbook(Real Signal): myfxbook.com/members/iamforexrobot/grid-hero-real-axitrader-ecn/2195120
GRID HERO Myfxbook(retired): myfxbook.com/members/iamforexrobot/grid-hero-real-axitrader-ecn/2005396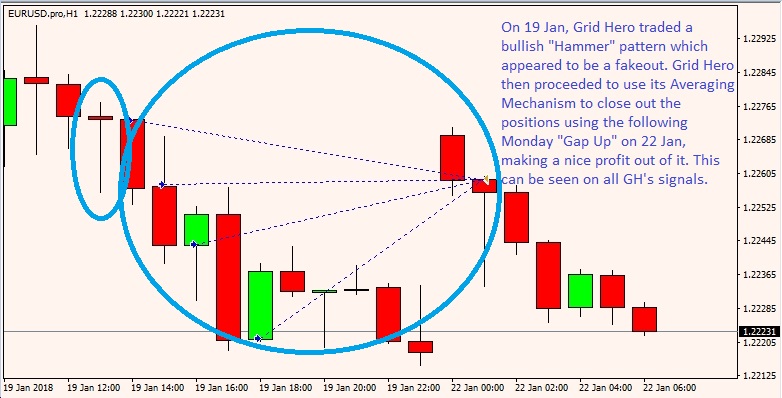 · 1