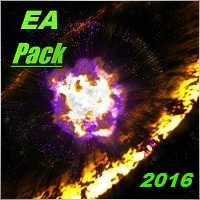 EA Pack
Leanid Aladzyeu
EA Pack contains a package of Expert Advisors that can be used in any configuration and on any pairs! The already implemented strategies: RSITrail_Strategi_1 - trading by RSI and trailing orders. GridRSI_Strategi_2 - the grid strategy that is able to work in different directions from the price and (or) the balance simultaneously. TrendTrail_Strategi_3 - based on the channel breakout (the channel is formed by the EA). Scalper_Strategi_4 - based on the intra-hour trend reversal (when major partici
30 USD
Mew panel for monitoring trades and strategies.
New block of grid step correction in case of an error.
Market entry filter now uses a wider range (since the signal may fail to proceed sending order to a server)
Added parameters.

StopLoss2 - profitable grid close level (in points) from the last order.
MaxTraid4 - limit scalper deals (see Comments for details).
Fixed bugs:
Adaption of the grid step changes its parameters before the grid is plotted.
Fixed conflict of the profitable grid (the parameter of the grid closure is changed from 10% correction to 15% correction).

Added block of notifications and fixing errors of order modification.
Changed order colors (each strategy and direction have their own colors).
Added the Scalper strategy based on a trend reversal within an hour (when major participants enter the market), but at that it works by a daily trend only.
Fixed found errors.
More information can be found in Comments.
1.15
The code for "Trailing" has been replaced by a prompter one.
Added new parameters:
TrailStep - enable/disable (switcher of trailing step)
Bezubitok - enable/disable (switcher of breakeven), if stop loss is enabled, it will stay at the open price, and then you will have 2 options: closure by a stop order at the open price or at take profit.

2.25
Added supplementary Grid strategy which works both in profitable and unprofitable areas.
We have also implemented a code of the adaptive grid step analysis. For this purpose set the GridStep2 parameter to 0. If you specify your grid step (in points), the adaptive analysis will be disabled.
Both strategies have switchers "RSITrail_Strategi_1" and "GridRSI_Strategi_2". To enable the strategy set to "true", to disable, set to "false" .
All parameters are revised and have values 1 or 2 at the end, which means that a parameter refers to the 1st or the 2nd strategy.
GridMagic2 and Magic1 have to be set to different values, otherwise the EA does not distinguish orders.

3.35
The first and the second strategies can work in both directions (they do not skip buy signals if there are sell orders)
StopLoss is equal to TrailingStop

We deleted following parameters:
buy and sell levels in GridRSI and RSITrail strategies,
profitOrdersLoss - it is set to 0

Added the TrendTrail strategy for breakthrough trading
Updated entry conditions. Now the market is entered on the beginning of a candle (smaller entry when a trend reverses).
Added parameters:
TakeProfit.
FixLot - fixed lot value which can be cancelled by the Risk parameter only.