New tool for motivating and attracting traders — MQL5 Coupons
New tool for motivating and attracting traders — MQL5 Coupons
MQL5 Coupons service has been developed with brokers in mind. It is an important tool for motivating and encouraging traders, as well as expanding the client base. A coupon is a text code to be inserted in the payment form in the MetaTrader platforms or MQL5.com website. It allows brokers to support their traders willing to subscribe to trading signals, rent a virtual hosting or make purchases in the Market of trading applications. Besides, traders can use coupons to deposit funds to their MQL5 accounts, purchase robots developed in the Freelance service as well as pay for MQL5 Cloud Network agents.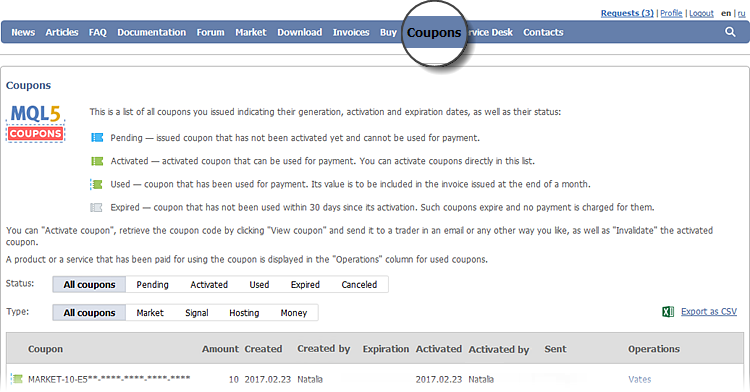 ‌
The service is simple: order coupons in the new website section and send them to your traders. They receive a coupon in a beautifully composed email containing the necessary instructions and mentioning your company.
Coupons generation
In order to generate coupons, move to the appropriate menu to the left and select a coupon type, amount and number: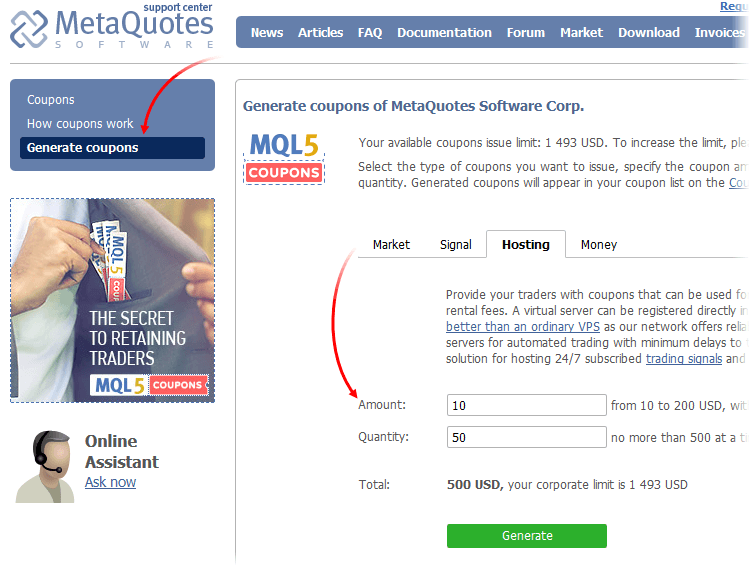 ‌
By default, the limit on issuing coupons is $1 000 for all companies. You manage the coupons and distribute them among traders at your own discretion. The coupon's validity period is 30 days since its activation. After this period the coupon's key expires and is not included in the invoice sent to a broker.
Do you need loyal traders? Do you want to expand your customer base? Issue coupons and support traders willing to pay for the MetaTrader platform services. You can get much further with a kind word and a coupon than you can with a kind word alone.