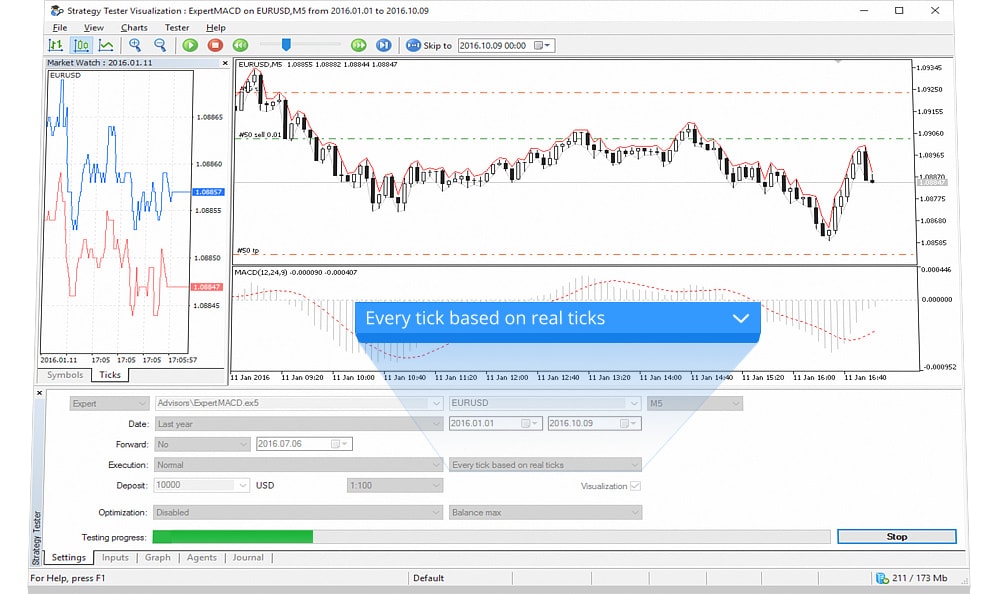 Financial instruments' tick history requires a large amount of data. Therefore, it has not been implemented either in MetaTrader 4, nor in the earlier versions of MetaTrader 5. Instead, the platforms offered various simulation types reflecting real tick history more or less accurately but still deviating a lot from the tick history feature.
Comparison testing of EAs on simulated and real ticks has produced really amazing results. The robot behavior changes drastically depending on what type of data is provided as quote history.

Every tick based on real ticks

When testing on real ticks, the quote history accuracy is over two times more detailed than when using the most accurate simulation mode ("Every tick" option in the strategy tester). In fact, this is a completely different and high-quality set of history data, which makes EA algorithms behave in a qualitatively new way as compared to a simulated and possibly halved history.
Real tick-based history means the maximum possible testing accuracy. Now, you can be sure that your robot's strategy tester results are no different from the ones in real trading. Thus, your estimation of various EA properties remains as accurate as possible.
Download MetaTrader 5, test your robot on the more accurate tester and remove unnecessary risks!
Download MetaTrader 5 and test robots with the highest precision >>