Overview

Reviews

Comments

What's new
Autotrade EA GOLD
Hello everyone,
This EA is based on technical analysis to avoid blowing up your account !
Here is the best configuration for EURUSD, with low DD (less 15%), 2 months live. This is the best way to adjust the EA to any market.
This version is ONLY for EURUSD. Don't need to select the TimeFrame, it's automatic and use default one.
You can adjust ATR Close method but the default one is the best !
This EA is not :
- A grid EA
- A martingale EA


It avoids a big DD. Futhermore it takes only one position at once !
We will publish very soon other suitable EA like this for other FOREX pair but also for CRYPTO !
Enjoy !
Buyers of this product also purchase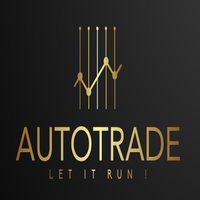 Autotrade EA Forex
Clement Gourrierec
Hello everyone, This EA is based on   technical analysis   to   avoid blowing up your account   ! It works with Bollinger & RSI. You can manage the trend of the EA.  Here is the best configuration for GBPUSD, with low DD (less 15%).  This version is ONLY for GBPUSD. SELECT M5 !  You can adjust ATR Close method but the default one is the best ! You can go for SL / TP but not the best.  This EA is not :   - A grid EA - A martingale EA  It avoids a big DD. Futhermore it takes only one posi
300 USD
Risk ratio, improve parameters
EURUSD - Best FILE ! Awesome RESULTS
Awesome version for EURUSD.

Backtest since 1st JUNE, post COVID
Modify the EA to make it robust for XAUUSD