Overview

Reviews

Comments
Save Chart
This indicator saves the chart as a template when you change the symbol. It also loads the template from the new symbol. Therefore you are able to save all objects that you have drawn on the chart.
It is an addition to the Watchlist Indicator.

How to use it:
- Pull the indicator to the chart
- The first parameter defines which timeframes are saved into one file. An example: If you do not want to see a drawn object (e.g. line) from D1 in M1 you need to specify the timeframes.

- The default value is 0;1800;86400;99999999 what means:
- The first savefile contains all timeframes from 0s - 1799s, the second file contains all timeframes from 1800s - 86399s (M30 to <D1) and the third file contains everythin >=D1
- The minimum setting (if you want to save everythin in one file) is 0;99999999
- The parameter "diversification" separates the created files. Only charts that were saved with the same parameter are loaded when you change the symbol (in nearly all cases you will use the default value)

Limits of the indicator:
- It saves the chart as a template! That means if you change the chart settings (for example the background color) it is not updated in all of the saved files and will reset after you load a new chart.
- But you can reset it. Just go to your Metatrader Folder --> MQL5 --> Files. It is the folder where all charts are saved. You can just delete the files from a specific symbol or the whole folder to reset all saves.

Buyers of this product also purchase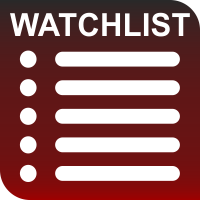 Watchlist
Nico Deuscher
Indicator to create and manage your own watchlists. It allows you to load one symbol to multiple charts with just one click. There is an addon to save objects from drawings (lines, fibos etc.) and load when the symbol is changed. Functions Supports Multi-Timeframe-Usage Load one symbols to multiple charts with just one click Automatically created list with all tradeable symbols Custom watchlists can be created Symbols can be added and deleted from the created watchlists Sortfunction
30 USD