Overview

Reviews

Comments
Cronos X
First 5 copies at an introductory price of 69$. Sold 0 of 5 at 69$.
Next Price 99$.
Symbol : AUDJPY, CADCHF, CADJPY, EURAUD, EURCAD, EURGBP, EURJPY, EURNZD, EURUSD, GBPCHF, GBPUSD, NZDJPY, NZDUSD, USDCAD, USDCHF, USDJPY, DAX.
Time Frame: D1
if you test rebember that you have downloaded both the D1 and M1 Timeframes.
For each symbol set different input variable "Numero Magico" (Magic Number).
Cronos X is an automatic multicurrency system. No MARTINGALE, GRID, HEDGING are used. It is based on the average price.
Expert has an algorithm with which it adapts the time of entry and exit according to the market (uses an adaptation algorithm).
Expert open and close trade in the day. No operation will ever go beyond midnight.
Live SIgnal: https://www.mql5.com/en/signals/947268.
Recommendation for Lot Size:
- If you decide to use the auto lots size this is the logic: auto lots increment is based by leverage, if set 1 means that when your account balance is 100.000 open trade with 1 lot size. If set 2 when your account balance is 100.000 open trade with 2 lot size. If set 3 when your account balance is 100.000 open trade with 3 lot size and so forth.
In the image below you can see the total equity of all currencies. Test start from account with €100.000 and set fixed lot by 1 (auto lots = False).
This expert is a good way to invest your money.
My advice is to active auto lot and set leverage 6 for DAX and NZDJPY, leverage 5 for AUDJPY and for other currencies set leverage 3 (medium risk). (live Signal is configured in this mode) .
In this way the maximun loss will be around 30% (if you think it is too much reduce the leverage).
Last set FIle on https://drive.google.com/file/d/1S05h2xW34kbwudFJdLzBjwKLUKIPutIJ/view?usp=sharing.
Below you can find the optimal entry and exit times for all currencies from which you can start the expert in this moment 14/03/2021. (if you do non do it, it will adapt itself after a few days)
| Currency | Long/Short | Open Time | Close Time |
| --- | --- | --- | --- |
| AUDJPY | LONG | 5 | 18 |
| AUDUSD | LONG | 1 | 23 |
| CADCHF | LONG | 2 | 20 |
| CADJPY | LONG | 1 | 22 |
| DAX | SHORT | 6 | 21 |
| EURAUD | SHORT | 1 | 22 |
| EURCAD | SHORT | 1 | 23 |
| EURGBP | SHORT | 1 | 22 |
| EURJPY | LONG | 5 | 20 |
| EURNZD | SHORT | 1 | 23 |
| EURUSD | LONG | 2 | 23 |
| EURUSD | SHORT | 2 | 21 |
| GBPCHF | LONG | 1 | 2 |
| GBPUSD | LONG | 2 | 22 |
| NZDJPY | LONG | 1 | 23 |
| NZDUSD | LONG | 2 | 22 |
| USDCAD | SHORT | 3 | 22 |
| USDCHF | LONG | 1 | 23 |
| USDCHF | SHORT | 3 | 23 |
| USDJPY | LONG | 1 | 23 |
| USDJPY | SHORT | 1 | 22 |
Buyers of this product also purchase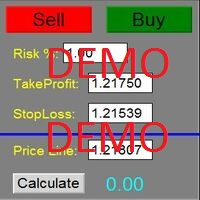 Easy Order Panel Demo
Giuseppe Drago
This is a DEMO version of  Easy Order Panel  is a easy panel that can help you to place your orders quickly and easily. Works on all currencies or indices. On   Easy Order Panel DEMO   risk is set to 0.05% of your capital. So you can test live. Full version of   Easy Order Panel  allows to c onfigure the Risk and automatically when you press Sell/Buy button an operation with the right lot will be opened. in this way you lose at most the percentage entered. If you like This is link of  Easy Order
FREE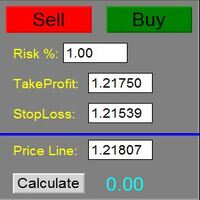 Easy Order Panel
Giuseppe Drago
The Panel does not work in the tester. You can test it live with demo version. Demo version link:  https://www.mql5.com/en/market/product/61344?source=Site+Market+MT4+Utility+Rating004 Easy Order Panel is a easy panel that can help you to place your orders quickly and easily. Works on all currencies or indices. Configure the Risk and automatically when you press Sell/Buy button an operation with the right lot will be opened. in this way you lose at most the percentage entered. - just double
35 USD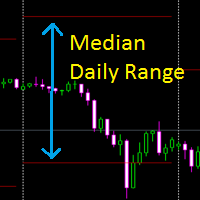 Median Daily Range
Giuseppe Drago
Median Daily Range is a NO REPAINTING INDICATOR , that calculate median range and draw lines, one line above and below every day,  this represents the daily  possible movement . If the price crosses this line then we are in a situation where the price is moving more than it should. The blue writing indicates the average movement,  of the current day, that the price could make . Indicator draw line from M1 to H4 TimeFrame. On daily line are no visible. Indicator works on all currencies and i
30 USD