Overview

Reviews

Comments
My Edge AudCad
El Bot solo hace compras en AUDCAD a partir de las 00:00 cuando se cumplan las condiciones
SL Strategy 1 -->>5 (Stop Loss Strategy 1)
TP Strategy 1 --> 5 (Take Porfit Strategy 1)
SL Strategy 2 --> 6

(Stop Loss Strategy 2)

TP Strategy 2 --->3

(Take Porfit Strategy 2)
El cierre de las operaciones es por velas, o sea se cierran las operaciones cunado se alcanzan un numero de velas determinado contando a partir de la apertura de la operación.
Candle to close ST 1 ----->8
Candle to close ST 2 ------> 10
Buyers of this product also purchase
Macd Escalator
Miguel Angel Diaz Oviedo
Expert Advisor que puede ser usado tanto para operaciones de scalping como para operaciones de swing trading. Todo está en la parametrización que se haga y el Time Frame que se quiera trabajar. Se puede usar en cualquier activo, todos los Time Frames. Recordad que cada juego de parametros es válido para cada Broker, por lo que la optimización es fundamental.
30 USD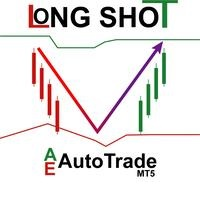 LongShotMT5
Miguel Angel Diaz Oviedo
Expert Advisor de la conocida estrategia LongShot. La estrategia combina los movimientos del precios con el canal de Donchian y usa dos medias móviles para la toma de posiciones así como la magnitud en los cambios en los precios usando un oscilador. El EA está diseñado para hacer tanto swing como scalping.  Antes de usarlo es necesario tener en cuenta que los parámetros que vienen por defecto corresponden a una optimización determinada, para una operativa tendencial en gráficos de 1h, pero puede
30 USD