Overview

Reviews

Comments
Accumulation Profile MT5
A.Profile shows accumulation zones, support - resistance and zigzag levels. The largest and most relevant zones are combined into one non-linear histogram - Accumulation Profile. The profile shows support - resistance levels. The longer the line, the stronger the level.
A.Profile unleashes the full potential of horizontal volume from the iRenko analytical platform. Renko size is set automatically. Renko size depends on volatility, timeframe and market.
A.Profile works on time frames from M1 to H1. All indicator calculations are based on the M1 time frame.
iRenko https://www.mql5.com/ru/market/product/58668
The indicator does not work in the strategy tester.
Input parameters.
scale, size, range are set from 0 to 20.

scale

- changes the Renko size for all time frames from M1 to H1. The larger the scale, the larger the zigzag and accumulations.
size

- the minimum accumulation size.
range

- range of accumulation boundaries.
Projection - what to show on the chart.
Off

- show nothing;
ZigZag

- regular zigzag;
ZigZag_Volume

- zigzag with volume;
Acum

- accumulation zones;
Acum_ZigZag

- accumulation and regular zigzag.
Profile - what to show on the histogram on the right.
Off

- show nothing;
Levels

- only support-resistance levels;
Acum

- only accumulations;
Acum_Levels

- accumulations and levels.
date - start date of indicator plotting.
width_zigzag

- zigzag thickness.
c_zigzag

- zigzag color.
c_acum

- accumulation color.
c_max_volume

- maximum volume color.
c_levels

- level color.
Buyers of this product also purchase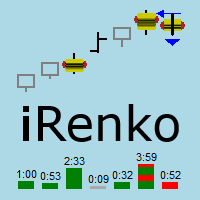 IRenko
Ivan Vlasenko
iRenko  – is an innovative analytics platform based on Renko chart. iRenko  has flexible settings and unique capabilities that are not available in other indicators and terminals.       Main features of the indicator. 3 display methods - projection, time frame and chart. 3 types of bricks - volatile, medium and volume. 2 Renko charts – iRenko, Double Renko. Automatic setting of brick size. Vertical and horizontal volume with unique features. Period separators and timeline. And much more.   iRen
200 USD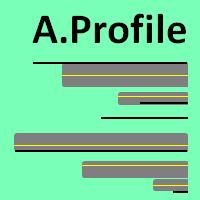 Accumulation Profile
Ivan Vlasenko
A.Profile shows accumulation zones, support - resistance and zigzag levels. The largest and most relevant zones are combined into one non-linear histogram - Accumulation Profile. The profile shows support - resistance levels. The longer the line, the stronger the level. A.Profile unleashes the full potential of horizontal volume from the iRenko analytical platform. Renko size is set automatically. Renko size depends on volatility, timeframe and market. A.Profile works on time frames from M1 to H
150 USD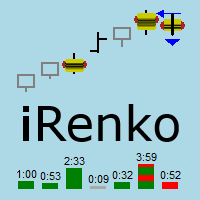 IRenko MT5
Ivan Vlasenko
iRenko  – is an innovative analytics platform based on Renko chart. iRenko  has flexible settings and unique capabilities that are not available in other indicators and terminals.       Main features of the indicator. 3 display methods - projection, time frame and chart. 3 types of bricks - volatile, medium and volume. 2 Renko charts – iRenko, Double Renko. Automatic setting of brick size. Vertical and horizontal volume with unique features. Period separators and timeline. And much more.      iR
200 USD