Overview

Reviews

Comments
QXS Market Scanner
QuantXMarketScanner is a multi assets indicator for MT5
- Mathematical model based on 7 custom moving averages indicators
- Adaptable on Currencies, Stocks and Crypto
- Automatic setup, self optimized
About QuantXsystem Products:
– Simple installation & integration into MT5
– Unlimited License after purchase (for one user)
– Automatic pattern recognition to identify the best timing and price levels.
– Trading indicators are displayed directly and automatically from the charts.
– Self-optimized Algorithm ready-to-use
– Fully Automated Trading Systems developed and tailored for specific types of financial assets.
Buyers of this product also purchase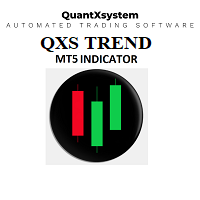 QuantXTrend
Netlux Digital Kft.
QXSTREND Our "Support and Resistance" indicator shows the support and resistance levels using the ADX indicator, and create an arrow based on three ADX Periods on different levels. Recommended TIMEFRAMES:- M15,M30 and H4 (For Long Term Target) 120 pips & Approximately M5 (For 30 Pips target) ENTRY SIGNALS:- You need to take trade based on Arrows if Green Arrow occurs then you need to buy if Magenta Down Arrow occurs then sell trade. About QuantXsystem Products: –         Simple installatio
245 USD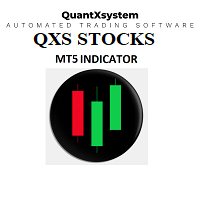 QuantXStocks Trading Range
Netlux Digital Kft.
QuantXSTocks Trading Range Indicator for MT5: INSTRUCTIONS TO USE OUR INDICATOR:- User needs to take trade on Arrow or after an Arrow CandleStick, You can achieve up-to 35-125 pips target by this Indicator. Best Timeframes for Stocks and Indices are M30 and H1: AMAZON M30 (50 pips) TESLA M30 (50 pips) APPLE M30 (50 pips) ADOBE M30 (50 pips) NASDAQ100 H1 (125 pips) The above are the approximate amount of pips you can achieve by this Indicator, Green arrow appears to be buy arrow while the Red a
965 USD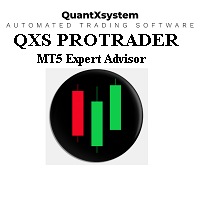 QuantXProTrader EA
Netlux Digital Kft.
QXS PRO TRADER Expert Advisor QuantXProTrader is an Expert Advisor based on Profitable Price Action strategy. It is compatible with our QXS Trend indicator and work automatically by Trend detection on Multiple assets. Each and Everything in this EA is perfect Just you need to set input parameters. Take Profit, Stop loss, Trailing Stop, Trailing Step, Lot Size Adjust it as per your account capital and equity. Recommended TIMEFRAMES are: M15, M30 and H1  Before Installing Expert Advisor on cha
3 865 USD