Overview

Reviews (6)

Comments (11)
Setup Stormer
Graph configuration and buy and sell signals based on Stormer's
(Alexandre Wolwacz, Brazilian trader)
swing, position and day trade strategy, described on his youtube channel (https://www.youtube.com/watch?v= 0QZ_NjWkwl0)
The buy and sell indications are based on 2 candle patterns (Inside Bar [Yellow] and Reversal Closing Price [Blue and Red]), 3 Moving Averages and 1 Stochastic.
Indicators:
Inside Bar - Candle pattern indicating trend continuity, or reversal
Reversal Closing Price - Candlestick pattern indicating trend reversal
Moving Averages - Used to determine the price trend
Stochastic - Used to check the states where the market sold or bought more than it should, and therefore there is the possibility of creating tops and bottoms
How to use:
When there is an opportunity to buy or sell, the indicator will show a Fibonacci Expansion containing the following values:
buy/sell - Recommended entry value of a trade
stop - Recommended value for placing the operation stop
100% - Value of the objective to partially carry out the operation. At this moment, you can move the stop of the operation to guarantee the profit
161.8% - Operation profit target value
IMPORTANT! The operation can only be entered up to 2 candles after the SIGNAL is displayed.
Ex. If the input signal was an Inside Bar [Yellow], enter the candle only after the Inside bar or the Next Candle. If the entry signal was on a reversal candle [Red, Blue], enter only the candle after the reversal candle or the next candle.
Buyers of this product also purchase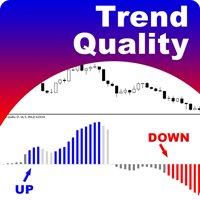 Trend Quality
Alex Rodin De Sousa E Silva
The Trend Quality Indicator  (by David Sepiashvili) is intended to measure trend activity. Some benchmarks can be used to determine the strength of a trend.  In the range of values from -1 to +1 ( Ignored zone parameter) ,  the trend is buried beneath noise. It is preferable to stay out of this zone.  The greater the value, the less the risk of trading with a trend, and the more reliable the trading opportunity.  The range from +1 to +2, or from -1 to -2, may be treated as zone of weak tr
10 USD