Overview

Reviews (8)

Comments (6)
And stop and reverse
And stop and reverse is an Expert Advisor that does not use indicators.

Trade Strategy:
Expert Advisor And stop and reverse trades on any currency pair and on any timeframe. The strategy is based on accompanying an open position with a trailing stop and reversing it when the trailing stop triggers. The Expert Advisor increases the deposit by limiting the losses and not limiting the profits due to the absence of a Take Profit.
Input Parameters:
LotConst - constant lot size;
TrailingStop - the only parameter that can be optimized. About 40 pips for 4-digit quotes (400 pips for 5-digit quotes);
FirstPosition1Buy2Sell - direction of the first position: 1 - Buy, 2 - Sell;
MagicNunber - magic number for the Expert Advisor to identify its positions.
Test Results:
And stop and reverse having initial deposit of $10000 earned $2300 on EURUSD M1 in the period from 1-st January 2012 to November 23-th, 2012. The relative drawdown is 5%. Even better results can be obtained on other currency pairs.
Buyers of this product also purchase
And stop and reverse MT4
Andrei Maslennikov
And stop and reverse MT4 is a trend Expert Advisor which uses no indicators. Trading Strategy: And stop and reverse MT4 trades any currency pair and any timeframe. The strategy is based on accompanying an open position with a trailing stop and reversing it when the trailing stop triggers. The first position is opened with the triggering of the Buystop or Sellstop order above and below the current price. On Friday at 23:00 terminal time all positions and orders are closed for the weekend. Addit
30 USD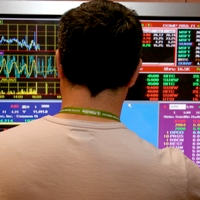 Limit and reverse MT4
Andrei Maslennikov
Limit and reverse MT4 is a flat Expert Advisor with no indicators. Trading Strategy Limit and reverse MT4 trades any currency pair and any timeframe. The strategy is based on accompanying an open position with a trailing profit and reversing it when the trailing profit is activated. The first position is opened with the triggering of the SellLimit or BuyLimit order above and below the current price. Additional control is placing a SellStop order much below the current price - new orders cannot
30 USD