Overview

Reviews

Comments (5)
Rain EURUSD
The EA is part of the Rain strategy that includes several EAs for every major pair. The EA is designed for money managers or hedge fund traders to manage big accounts with small drawdown. This particular strategy is based on price action. It is developed for EURUSD H1.
Before buying, backtest the EA the following way: start the backtest with 100k capital, good quality tick data since 2010.01.01 and see the results. After that, you can change your capital and manage the risk to see the results. (You can use open price only if the results are similar).
5-digit brokers only. Real account monitoring will start next month with all the EAs in the strategy. The results of the screenshot are made with the following calculation:
Spread: 8
Commission: $8 per round lot
Slippage: 5
Currency of the account: USD (for other currencies, please backtest the risk)
Features
Backtested since 2010 with good tick data, 0 mismatched charts, 99% modeling quality.
Always stop loss and take profit.
The EA implements money management system based on adjusting lot sizes against the instrument's volatility.
The lot size is adjusted so that a movement of 200% of the ATR
Not get affected by spread or stop levels.
Not martingale, grid hedge or other dangerous strategies.
Fully optimized and ready to go.
Constant updates to new market signals and changes in the market.
VPS is advised.
If you need this EA on any language, let me know.
Please feel free to PM me for any matter.
Parameters
The EA is fully optimized. We advise to not change anything.
Mode (no user interface is enabled):

0 = normal trading,
1 = only monitor trades for closes,
2 = testing

Magic Number: select the "magic number" for the strategy.
Slippage: maximum allowed slippage.
Max Spread: maximum spread allowed in pips.
Disable Compounding: set to true to disable compounding within the EA.
ATR: set the ATR period used for money management (uses 20).
Risk: risk as a percentage of the account for each 200% of the ATR.
Take Profit: Take profit value as a percentage of the ATR.
Stop Loss: Stop Loss value as a percentage of the ATR.
Trade Comment: Input the custom comment you would like to see on trade.
Buyers of this product also purchase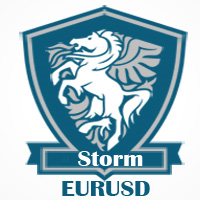 Storm EURUSD
Elie Amiga
Every professional algorithmic trader knows that to have consistent profit every month they need to depend on several strategies. The EA is part of the Storm strategy that includes several EAs for every major pair. The EA is designed for money managers or hedge fund traders to manage big accounts with small drawdown. This particular strategy is based on price action. It is developed for EURUSD H1. Before buying, backtest the EA the following way: start the backtest with 100k capital, good qualit
99 USD