Autotrade EA Forex
Hello everyone,
This EA is based on technical analysis to avoid blowing up your account ! It works with Bollinger & RSI. You can manage the trend of the EA.
Here is the best configuration for GBPUSD, with low DD (less 15%).
This version is ONLY for GBPUSD. SELECT M5 !
You can adjust ATR Close method but the default one is the best ! You can go for SL / TP but not the best.
This EA is not :
- A grid EA
- A martingale EA


It avoids a big DD. Futhermore it takes only one position at once !
We will publish very soon other suitable EA like this for other FOREX pair but also for CRYPTO !
Enjoy !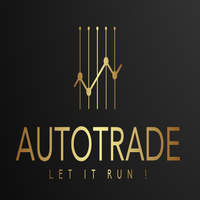 Autotrade EA GOLD
Clement Gourrierec
Dàjiā hǎo, gāi EA jīyú jìshù fēnxī lái bìmiǎn zhànghù bàozhà. Zhè shì EURUSDde zuì jiā pèizhì, jùyǒu jiào dī de DD(xiǎoyú 10%) qiě yǒuxiàoqí wèi 2 gè yuè. Zhè shì wèi rènhéshìchǎng liáng shēn dìngzhì EA de zuì jiā fāngfǎ. Cǐ bǎnběn jǐn shìyòng yú EURUSD. Nín kěyǐ tiáozhěng zhǐ yíng hé zhǐ sǔn, dànshì mòrèn zhí shì zuì hǎo de. Gāi EA bùshì: Wǎng gé EA -mǎdīng EA wǒ bìmiǎn dà DD. Lìngwài, tā zhǐ zhànjù yīgè wèizhì! Xiàng zhèyàng de qítā hé shì EA jíjiāng fābù gěi CRYPTO yǐjí qítā FOREX duì! Lèqù!
300 USD