Excess Reversal Trading Robot
DON'T MISS EXCESS REVERSAL IN SUMMER PROMOTION AT 50% OFF! $ 197 UP TO 31 AUGUST
10 ACTIVATIONS

LIFETIME UPDATES AND IMPROVEMENTS FOR FREE
PROVIDED WITH SET FOR 5-60 MINUTES TIME FRAME
TESTED IN LIVE TRADING, DEMO AND REAL ACCOUNTS
CHECK THE SIGNAL ON THE REAL LIVE ACCOUNT
Remember:
Historical performance is never any "guarantee" for future performance. Always start trading with a demo account, or low risk setup, to make sure this kind of strategy is what suits your trading style. In any case, if you decide to go real money live trading, risk only the money you can afford to lose.
THE SYSTEM NEEDS HEDGING ACCOUNTS
it does not use hedging but opposite signal can occur
MICRO ACCOUNTS RECOMMENDED
YOU CAN RUN IT IN ALL TIMEFRAMES, BETTER FROM 5M TO H1
CURRENCY PAIRS EURUSD, GBPUSD, USDJPY COULD BE A GOOD MIX
BUT YOU CAN CHOOSE ONLY ONE PAIR TOO OR DO OTHER MIX
I like small time frames as 5 minutes, so the standard settings are the ones I use in live on 5 minutes time frame. So far the system is running on EURUSD, GBPUSD, USDJPY, EURJPY, EURCAD, AUDUSD, AUDJPY. You can do your own tests, and I'll do further tests and improvement on this system.
YOU'LL BE UPDATED ON NEW SETTINGS OR IMPROVEMENT ON IT.
TESTED IN LIVE TRADING I RUN SYSTEMS FOR SOME MONTHS BEFORE PUTTING MONEY ON IT.
THE SYSTEM HAS BEEN TESTED WITH VERY HIGH COMMISSIONS TO STRESS THE TEST. CHECK ON THE SCREENSHOTS.
CHECK THE SIGNAL PAGE AND KEEP IN MIND THAT BACKTESTS ON SMALLER TIME FRAME ARE NO RELIABLE IF YOU DON'T BUY EXPENSIVE QUALITY DATA.
FEATURES
from 1 to 10 trades per each basket
filters and algorithms in the code to trade on excesses of market movements
each TP and trade size can be customized
You can customize it to use it on each time frame and choose size and TP of each trade
You can choose the time for trading (I recommend the high liquidity hours)
It moves the TP of all open orders at last open trade TP, in order to exit the market as soon as possible
Provided with some 5 minutes time frame sets
Recommended accounts: micro accounts min. 100 usd starting from 0.01 lots per each pair to trade
Keep leverage low: don't be greedy.
Trade one direction only or both
Enable/disable max loss in account currency
Number of trades to open in the adjustment grid
Size of each trade
TP of each trade (last trade TP will close all other open trades)
Time to open the first trade
Days of of the week to open the first trade
Show/hide info panel on open trades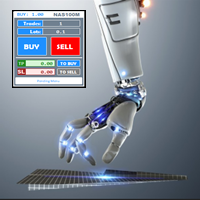 Professional Pad Panel
Alessio Farinella
笔记: 通常,面板和面板在测试器上的工作受到技术限制,因此请观看完整的教程视频                                      如果您需要通过真实帐户进行测试并发送电子邮件至DOINGSOMETRADES@GMAIL.COM,我们将为您免费提供7天的试用版 主要特点和描述 专业填充面板既适用于广泛的交易者,又适用于操作较少的更轻松的交易者。它使您的交易更舒适,更快捷,更安全: 您可以以百分比或帐户货币设置最大亏损,因此您可以将其设置为每张图表的最大亏损,而不使用公共止损,也可以将其设置为在该交易中进行的所有交易的最大亏损。图表,如果您开设多个头寸 您可以一键打开多笔交易;您可以直接在图表上设置挂单或通过专用的开/关菜单填写输入(请参见视频以获取清晰完整的概述) 您可以一键关闭该工具上的所有买入或卖出订单 您可以一键撤消所有订单,以便所有买入变为卖出,反之亦然 您可以一次将SL和TP设置为多个订单 一键设置SL或TP达到收支平衡,您总是可以在图表上画一条线来查看平均价格,因此,如果您有更多的交易,则始终可以看到平均价格在哪里 信息面板:它
197 USD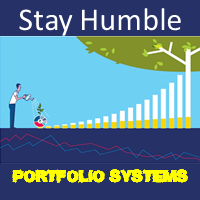 Stay Humble EurUsd Portfolio EA
Alessio Farinella
Designed for EurUsd H1 time frame  Portfolio System EA  High Value system at very Low Price The "engine" behind this system can be applied to many markets, but the parameters we put in that version, are optimised for EurUsd H1; you can use this system with or without algo filter, it's up to you, both cases it is profitable; this system is designed to be part of a portfolio of systems, and other will follow; if you need to see many trades every day, that is not the expert for you; this system
97 USD