Realistic Trader
Time-limited sales at $99
This EA is REALISTIC - it is NOT a holy grail, but it focuses on long-term growth.
It uses a grid system BUT it is NOT a martingale system. I repeat, it is NOT a martingale system; i.e. there is no lot size escalation.
Unlike a traditional martingale grid EA, this EA does not make you live in the constant fear of blowing up and losing all your money.
Unlike a traditional martingale grid EA, this EA does not profit in every trade. Realistic Trader can occasionally lose trades with very well-controlled losses.
According to the most careful scrutiny with extensive TDS backtesting, Realistic Trader is profitable in the long run with high stability.


Features:

Default settings works on EURUSD M15 chart
Currently supported currency pairs: EURUSD M15, EURGBP M15, set files can be found >>HERE<<
Tested & optimized on highest quality test data available:

Tick Data Suite's Dukascopy 99.9% quality tick data of 18 years (2003-2021), with variable spread, execution delay and swap to simulate real market environment.
Focuses on

long term profitability.
High stability; stability = 0.95 in over 18 years of backtesting.
Passes 500 rounds of Monte Carlo simulation.
No time or news filtering is required.
- Minimal account balance = $200 (suggested money management = 0.01 lot per $200 balance)
- Recommended leverage 1:400
- A low spread, low slippage, ECN broker is always recommended.
- A VPS to run the EA continuously is recommended.


Settings:
Magic Number: A specific number for the EA to recognize and manage trades. Please use a different Magic Numbers for different currency pairs.
Custom Comment: For your own reference only.
Hedging Supported: Whether the EA will enter buy and sell trades at the same time.
Base Lot: The lot size which the EA uses to calculate for money management, or it will become the fixed lot size when money management is turned off.
Enable Money Management: turns on variable lot size according to account balance.
Balance Base & Distance: e.g. when set to 0 & 200, it increases 0.01 lot every $200 of balance. (0.05 lot at $1,000 balance); e.g. when set to 200 and 200, it increases 0.01 lot every $200 of balance after the initial $200 balance.
Indicators: Settings are all self-explanatory; the EA uses two filtering systems to determine whether it's suitable to buy or sell: Volatility & RSI
Grid settings: Allows you to set the grid distance and minutes it has to wait until it opens a new order.
Cool Monkey
Sze Yu Ma
Cool Monkey is a fully automatic, highly customizable EA based on Volatility, MACD and RSI to select optimal entry points. It uses a specialized grid structure  to achieve a high winning rate with improved safety. All tests are performed with 99.90% tick data, with simulated spread, execution delay, commission and swap. Trading and optimization experience required if you wish to optimize it. Check out my another EA   >> Realistic Trader<<     if you want additional safety under any market situat
FREE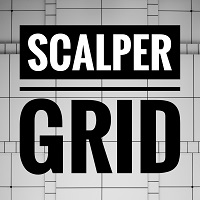 Scalper Grid
Sze Yu Ma
Features Summary   This EA leverages strategies and algorithms of the two popular strategies, scalping and grid trading. After tuning it not only takes advantage of scalper's high win rate, but also grid system's high resilience in the case of an unexpected trend.  Phased setup allows you to fine-tune volume, take-profit etc. strategies differently at different level of grid and equity. It also allow the EA to get out of a trending market easily by adjusting the TP target automatically. When Ti
149 USD