Checkmate Scalper
CHECKMATE SCALPER - EURUSD
Use on EURUSD - 1H timeframe only
Checkmate Scalper is an intraday, short term trading robot that takes advantage of EUR weakness against the USD.
This EA does NOT use any dangerous strategies such as martingale, dollar-cost-averaging, grid trading, hedging or arbitrage.
The EA always uses stop loss and automatically calculates the position size of each trade based on the stop loss level to ensure your draw down per order will never exceed what you are willing to risk per trade.
This EA only opens short positions during the London session and all open orders are closed within a maximum of 10 hours. This insures that you will never pay for overnight swap fees and will also not be effected by spread widening during night hours by your broker.
The robot uses 4 algorithms to diversify risk while profiting high returns.
The robot takes advantage of how liquidity providers get in and out of large positions on a daily basis. Thus, this strategy has been profitable since 2010 when high frequency trading became the most used method for trading the forex market by large institutions.
This EA is well suited for traders that trade with FTMO or other proprietary trading firms that do not allow positions to be held over the weekend, and /or do not allow to trade through certain news events. If a restricted event is scheduled on a certain day, simply turn off the EA on that day. All trades are opened between 8 and 12 GMT and are closed latest by 18:00 GMT.
The EA has 4 different money management systems built in. Choose between fixed lotsize, fixed money amount(your account currency), percentage of account balance or percentage of account equity. This is another advantage for prop firm traders that are limited to a certain drawdown limit per day.
The strategy is not sensitive to slippage or spread. However, there is an inbuilt spread filter to ensure no trades are opened during highly volatile moments.
All backtests uses variable spreads which ensures the user to get same or very similar results on any ECN broker.
A commission of 8 USD per round lot is included in the backtests, to match current broker fees.
Main characteristics of EA:
Strict use of stoploss on every trade.
No use of dangerous money management strategies.
Trades only during London and New Yorck session.
Spread filter to avoid trading during bad market conditions.
Survives strict high quality backtests, with real variable spreads, commission and random slippage at 99.9% tickquality.
Minimum account balance of just 100USD.
4 different money management systems built in to meet every users need.
All open positions are closed before the end of New York session.
Steady profitability since 2010 with over 2000 trades.
Average profitable trade is bigger than average losing trade ensuring a positive risk to reward.
This EA is time specific. Some VPS providers have faulty settings in their server clocks and does not allow their users to change the clock settings of the server. To make sure your VPS provider is compatible with the EA, please download my GMT calculator and drop it on any chart https://www.mql5.com/en/market/product/66343?source=Site+Market+MT4+Utility+Search+Rating004%3agmt. Compare the GMT time of the calculator to the actual GMT time (just search on google GMT time now). If the time on the calculator matches the actual GMT time, then it is working correctly. If it does not match, DO NOT TURN ON THE EA - contact your VPS provider and solve the issue on their server if possible. I use https://fxvm.net/?aff=23776 and have no problems.
Many vendors on this market place are selling scam robots. They hardcode the algorithm to avoid trading during past time-periods, where the strategy has been underperforming. This gives them perfect looking backtest, but forward testing shows the strategy is not profitable. To learn how to run proper backtests, click here https://eareview.freshdesk.com/support/solutions/articles/19000122960-shifting-the-tick-data-to-the-past
This strategy, like any other strategy, will go through periods of stagnation or drawdown. Not every month will be profitable. This is normal and should be expected from any trading strategy.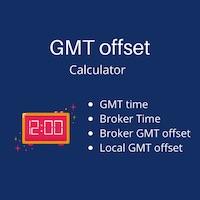 GMT Offset calculator
Jesper Christensen
GMT Offset Calculator - Add to any chart to see current GMT time, Broker Time, Broker GMT Offset and Local GMT Offset.  When it comes to MT4 charts, not all brokers are created equally. Depending on the   MT4 broker's server time, the charts or the candlesticks on the charts are calculated differently. For example, most GMT brokers tend to have an additional candlestick such as Sunday candlesticks as well. The GMT offset calculator is a useful tool if you use time dependent Expert Advisors or in
FREE