Titan Boom Crash
Titan Boom Crash is meant to be traded on 4 Symbols of the Boom and Crash Stnthetic Indexes. There are 2 versions of both these symbols which are the 1 apike per 500 ticks and 1000 ticks. The Titan Boom Crash utilises mathematical equations to select trades. It is highly advised to use in smaller timeframes from M1 to M10. Use the strategy tester to select your preferred timeframe and settings.

General Settings

Positions To Enter
Select 1 of 4 options
Long Positions Only

Short Positions Only
Long and Short
None
Magic Number
Stoploss
TakeProfit
lotsize
Use Daily Target
When the Daily Target is hit No more trades will be opened in the current day.
daily Profit target
This is the amount that when reached no more trades will open.
Use Trade Target
set a target for each trade.
Position Target
This is the target of a trade
MARTINGALE SETTINGS

Martingale to use
There are two types of Martingale that increases lot size after:
After loosing trade
After Winning Trade
Lot size Multiplier
This is the factor that the lot size is multiplied by after every martingale.
Maximum Martingale
this is the number of iterations that are done when increasing the Lot size
Martingale TimeFrame
This is the amount to look back in history to count losing trades.
Martingale on Drawdown Open Positions
when another signal is received and there is an open position in loss the next trade is martingale.
Secondary Settings
B & C Period

B & C deviation
this deviation highly affects the performance of the EA.
B & C Method
Select from Simple,
Exponential
,
Smothered
and Linear Weight
B & C Applied Price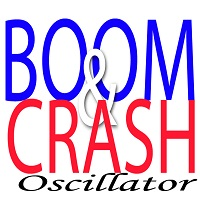 Titan Boom Crash Oscillator
Jefferson Metha
This is a momentum Indicator adapted to work on lower timeframes for Boom and Crash Indeecies. However the indicator can work with other Synthetic Indecies.  The indicator trend colour is set default to Aqua,  then sell signal, the colour changes to red and blue signifies buy signals. .  For non Boom nor Crash Indecies use a smaller period  and slightly increase the deviation. 
50 USD