FractalsTrader Free
The Fractals Trader Free Expert Advisor is a semi-automated trading system that automates market entry at the breakthrough of fractal levels. The EA is intended for both beginners and professionals. The EA can run on any timeframe and any currency pair. Lots and return depend on the settings determined by a trader.
Fractals Trader Free can complement any trading strategy by automating market entry on the breakthrough of the fractal level through various types of position opening and maintaining.
The uniqueness of this EA is in its simplicity; it has no complicated settings. You can run it when approaching an important level detected by the signals of your indicators or automate entry by specifying the start time in it settings, thereby allowing it to trade on important news. You no longer need to worry about setting take profit and stop loss; the EA will do it automatically, based on the specified settings. You can also enable trailing stop by fractals and the possibility of adding volume after hitting new fractal levels. It all depends on your trading strategies.
There are not limitations in the Free versions, it just doesn't have some functions available in
full version of
FractalsTrader
.
FractalsTrader
Evgeniy Ozhiganov
Fractals Trader Expert Advisor uses modernized Bill Williams system (Trading Chaos and New Trading Dimensions) based on fractal levels breakthrough with filtering according to indicators and patterns from higher time frames. Fractal levels are filtered by AO+AC (Zone Trading), MA (Trend Trading), Fibonacci Patterns (under development). All required parameters for opening, closing and control of an open trade by the EA are adjusted in settings. Each currency pair or portfolio requires individual
30 USD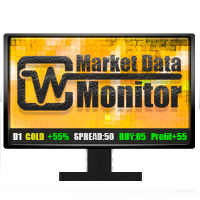 Market Data Monitor
Evgeniy Ozhiganov
Promptly receive all the necessary information for the selected symbol and an open trade: The current timeframe The current symbol The current price Price change in percentage as compared to the previous candlestick close price on the current timeframe An indicator for monitoring the spread The value of one point (default is 0.1, can be changed in the settings) The opening price of the trade The direction and volume of the open trade Current Profit/Loss All the data displayed in the Market Data
50 USD
- Updated to the latest build of the terminal.
- Optimized the EA operation. Increased speed and operation reliability.
- Fixed error when working with the tester.
- Optimized the EA settings for users' convenience. Removed unnecessary options.
- Improved entry system.
- Added the function for closing a trade after a specified profit percentage of the balance is reached.