Stochastic Profit Trend
General description
The Stochastic Profit Trend indicator (hereinafter referred to as STP) is an excellent helper for determining the trend direction, with further enter based on it. STP can be used as an addition to your trading system, and as a self-sufficient system. The algorithm of STP is to determine the strength and direction of the trend based on the classic Stochastic and a further signal when crossing the overbought / oversold zone. With a combination of high trend strength and the intersection of such a zone, it is possible to enter in the direction of the trend at the very beginning. With the correct setting of parameters, the profit from a successful entry exceeds a loss by a factor of 10 to 50, which is a good opportunity to make money on the entire trend movement.
Recommendations for use
The default settings are recommended, but not mandatory. For each currency pair and timeframe, it is desirable to select your own parameters. Also for trading on this indicator, it is possible to use a short Stop Loss, since with a successful entry, kickbacks are minimal. To maximize profits, you can use order tracking by Trailing Stop, or in a similar way.
Explanation of the indicator settings
MainPeriod - The main period of the STP indicator for the histogram
History - The number of candlesticks for drawing arrows
PeriodSTCH - Stochastic Period for Signal / Arrows
ShiftSTCH - Stochastic Slowdown
MethodSTCH - Type MA for Stochastic
PriceSTCH - To what prices apply Stochastic
Percent - What is the minimum percentage of the trend should be to trigger the signal
HighLevelSTCH - What upper level should Stochastic cross for a Sell deal?
LowLevelSTCH - What lower level should Stochastic cross for a Buy transaction?
UseArrow - On / Off drawing arrows on the chart
ArrowShift - Indent points from High / Low for drawing arrows
UpColor - Color up arrow
DownColor - Color down arrow
UseNotice - Whether to use notifications (common to all of the following)
UseAlert - Use Alert (sound notification)
UseEmail - Use Email Notification
UseMobile - Use push notification on mobile MT4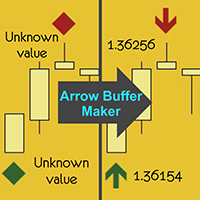 Arrow Buffer Maker
Vladyslav Katsylo
Description The Arrow Buffer Maker indicator is used to convert graphic objects into an indicator buffer. Most advisers are designed to work with indicator buffers, but there are indicators that simply draw Wingdings font characters (arrow, circle, star, and other MT4 symbols). This indicator was created for such situations. Main features This indicator can recognize and convert into an indicator buffer any graphic object on the chart that is of the type "Arrows". Arrow Buffer Maker is very easy
30 USD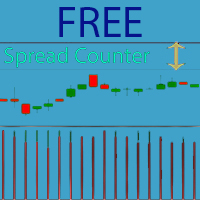 Spread Counter Free
Vladyslav Katsylo
Spread counter  Description: The Spread Counter indicator is used to collect spread data and display this data in a histogram. Since the spread history is not provided in MT4, this indicator can be an indispensable tool for each trader.  Attention!!! The free version is designed exclusively for working with the GBP / USD currency pair. To work with other currency pairs, you can use the full version: https://www.mql5.com/ru/market/product/43269 Application area:  Comparison of the sprea
FREE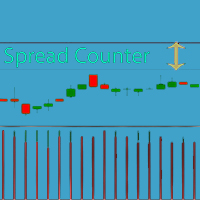 SpreadCounter
Vladyslav Katsylo
点差柜台 内容描述 价差计数器指示器用于收集价差数据并以直方图显示此数据。由于MT4中未提供点差历史记录,因此该指标对于每个交易者而言都是必不可少的工具。 适用范围: 比较不同经纪人的点差。 计算价差扩大时的趋势反转。 风险评估。 确定最佳交易时间 检查经纪人的完整性(如果价差在没有任何理由的情况下扩大,则可能由经纪人操纵)。 主要特点 价差计数器实时记录价差值,随后以直方图的形式显示此数据。该指示器可以用作信息指示器或信号指示器,因为其算法可根据您的条件提供绘制缓冲区箭头的功能。这允许顾问打开价差计数器的缓冲箭头上的信号。作为信息指标-价差计数器将以直方图的形式显示价差的当前和历史值,直方图由两部分组成:红色部分显示该期间的价差的最小值,绿色部分显示该期间的价差的最大值。传播计数器还通过将传播值写入公共目录来提供与多个终端(在一台计算机内)的工作。例如,这允许从一个终端记录数据,然后在另一个终端中加载相同的历史记录(为此,货币对的名称必须匹配)。 指标说明 LoadHistory-先前保存的传播历史的加载。可以在程序启动时自动(AUTO)自动完成,也可以通过按(
30 USD