Swing House
Classic Swing Expert Advisor
Advantages:
No potentially dangerous trade methods used: martingale, grid, waiting out losses, etc.
Resistant to over-optimization.
Reliable protection of deposit with predefined stop losses, breakeven and close at the end of day functions.
Only one open position at a time.
Trading with pending orders to decrease the risk of slippage.
Simple "plug and play" - download and trade!
Adjustable Parameters:
Lot - fixed lot value.
FreeMarginPercent - percentage value of available funds for calculating the working lot. If it is equal to 0, a fixed lot is used.
KSL and KTP ratios define the distance from the open price, at which Stop Loss and Take Profit orders are to be placed. They are set separately for SELL and BUY. If KTP and KSL are equal to 0, TP and SL orders are placed at 100 pips from the open price.
NoLoss - size of the current profit, at which position is moved to a break-even level. If NoLoss is equal to zero, the break-even function does not work.
NoLossShift - the break-even level shift relative to a position open price.
CloseTradeDay - true: at the end of day all positions are closed and pending orders are deleted.
StartHour - operation start time.
StopHour - operation stop time.
ExpHour - pending orders' expiration time.
CloseHour - time to close positions forcedly.
Recommendations:
Work symbol - EURUSD.
Work timeframe - M5, M15, М30. D1 history must be downloaded.
Deposit - from 100 USD. Recommended lot size is 5 to 10% of the free margin.
Forward test period - 12 months. Periodicity of floating optimization: 1 or 3 months.
A broker with minimal spread and micro lots of 0.01.
Can be used as a separate trade system and as a part of Expert Advisor portfolio.
The average number of deals a year is 130.
SoMM 3D
Valeriy Krynin
An intraday trading system portfolio consisting of three independent Expert Advisors. The Expert Advisors are combined so that the profit rate, the size and duration of drawdown are better on the whole, than they are of each Expert Advisor separately. The systems allows smoothing the balance line and protects from over optimization. At the same time, the system allows trading via only one EA or any combination of the EAs. System Features: Only pending orders are used for trading. At the end of
299 USD
Round Pound
Valeriy Krynin
Intraday trading system based on breakouts of GBPUSD "round" price levels. The product's feature is the algorithm of analysis and filtration developed for reducing the probability of false breakouts. Customizable System Parameters: Lot - fixed lot value. FreeMarginPercent - percentage value of available funds for calculating the working lot. If it is equal to 0, a fixed lot is used. DaysToAnalyze – number of trading days used for analysis. DeltaIn - distance from the "round" level, a pending o
49 USD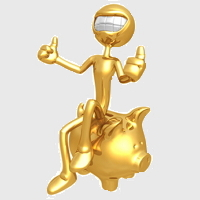 Happy Buyer
Valeriy Krynin
The Happy Buyer Expert Advisor trades intraday pending orders using a small number of trades and only two optimizable parameters.  Lot - fixed lot value. FreeMarginPercent - percent of free margin for the calculation of lot size. If it is equal to 0, the fixed lot is used. DeltaTP – Take Profit value. DeltaSL -  Stop Loss value. ShortTrade – short positions allowed (only for testing).  Working symbol - EURUSD. Working time frame - M5. Historical data on D1 is required. Furthermore, you need a br
59 USD
Improve trend detection method
Improved money management system when using FreeMarginPercent to calculate the lot when trading with variable lot size.
- Added possibility to modify pending orders.
- Added possibility to place double orders.