Block Meters MT5
WHY TO USE BLOCK METERS?
With Block Meters you can easily follow trading market situation, market activity and market noise, all in one visualized tool.
You don't need any charts.
Block Meters helps you to detect strong and weak signals in market situation. You can easily follow each currency and currency pair, and see all market forces and changes real-time.
HOW TO USE BLOCK METERS?
It is easy to open new chart by one click in Block Meters window. Just choose the right currency name and click to open it.
Block Meters is an INDICATOR. However, calculation logic included, works only in EA-program (Expert Advisor).

Parameters
symbol_prefix - If your MT5 broker uses prefix in currency symbol (ex. sEURUSD) - s
symbol_suffix - If your MT5 broker uses suffix in currency symbol (ex. EURUSDc) - c
Template_name - You can use your own template settings. Copy template file to folder path: //MQL5/Files (use filename without .tmp)
NZD_Calculating - If your MT5 platform doesn't have NZD currency pairs, you can disable NZD from calculating - true
NZD_Hide - If you don't need or you want to hide NZD blocks - true
Block Meters need all currencies listed below to calculate correct market data:
AUDCAD, AUDCHF, AUDJPY, AUDUSD, CADCHF, CADJPY, EURAUD, EURCAD, EURCHF, EURGBP, EURJPY, EURUSD, GBPAUD, GBPCAD, GBPCHF, GBPJPY, GBPUSD, USDCAD, USDCHF, USDJPY and CHFJPY
(if possible: NZDCAD, NZDCHF, NZDUSD, NZDJPY, AUDNZD, EURNZD and GBPNZD)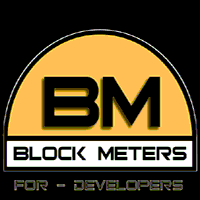 Block Meters
For-Developers
WHY TO USE BLOCK METERS? With Block Meters you can easily follow trading market situation, market activity and market noise, all in one visualized tool. You don't need any charts. Block Meters helps you to detect strong and weak signals in market situation. You can easily follow each currency and currency pair, and see all market forces and changes real-time. HOW TO USE BLOCK METERS? It is easy to open new chart by one click in Block Meters window. Just choose the right currency name and click
7 500 USD