Reversal or Breakout
This Expert Advisor trades on Reversal or Breakout which identify by Min High Low on M1.
It uses three trailing stop and take profit to adjust volatility market.
Recommended Pair is EURUSD, GBPUSD, USDJPY and EURJPY.
Use 5 Digits Broker with low spread plus commission as high as 20 points.
Allowed Broker with fixed spread as low as 30 pips (change HL_Range more than 400 pips)
Input Parameters
Name = Name for this Expert Advisor

Magic = Magic Number for this Expert Advisor

HL_Range = M

inimal High Low on M1 time frame

(Recommended is above than 300)

STOP_Distance = Distance between open order and running price

Max_Spread = Maximum spread allowed

Auto_Lots = If this TRUE, Lots used is automatically calculated from Account Balance and Risk_Percent. If this Parameter is FALSE, Manual_Lots is used

Risk_Percent = Risk Percent from Account Balance

Manual_Lots = Lots used while Auto_Lots set false

Take_Profit = Take Profit

Trailing_Stop_Loss = Stop Loss and than Trailing Stop Loss

Start_Trailing_Lock_Profit = Trailing Lock Profit start (after profit reach pips)

Trailing_Lock_Profit = Value of Trailing Lock Profit

Start_Trailing_Lock_Profit_2 = Second Trailing Lock Profit Start (active after Start_Trailing_Lock_Profit active). Start_Trailing_Lock_Profit_2 must be greater than Start_Trailing_Lock_Profit. If Start_Trailing_Lock_Profit_2 less than Start_Trailing_Lock_Profit, it will be disabled

Trailing_Lock_Profit_2 = Value of Second Trailing Lock Profit. If Start_Trailing_Lock_Profit_2

less than Start_Trailing_Lock_Profit, Trailing_Lock_Profit_2 is disabled

Use_Filter = If TRUE, EA will disable for 1 minutes after Max_Loss_Minute_Pip reach

Max_Loss_Minute_Pips = Maximal Loss for 1 minute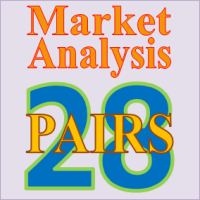 Market Analysis 28 Pair
Thoriq Imamulloh
Description: Indicator is based on Moving Average which calculate price of 1 minute, 5 minute, 15 minute, 1 hour, 4 hour and 1 day. These Moving Average analyses trend direction of 8 major currencies (EUR, GBP, AUD, NZD, USD, CAD, CHF, JPY) and shows trend Moving Average on each pair. If calculation is positive (blue color), the trend is going up. If calculation is negative (Red color), the trend is going down. BUY when trend of the pair is going up and SELL when trend of the pair is going down.
99 USD
~ Indicator update
~ Allowed with fixed spread as low as 30 pips (HL_Range more than 400 pips)

~ Indicator update
~ Allowed with fixed spread as low as 30 pips (HL_Range more than 40 pips)
~ Recommended HL_Range value is 300 pips
Change signal to adjust 3 setting
1. Normal (default)
Magic = 300
Trailing_Stop = 200
Trailing_Stop_2_Start = 50
Trailing_Stop_2 = 40
Min_High_Low = 300
Max_Spread = 20
2. Moderate
Magic = 200
Trailing_Stop = 100
Trailing_Stop_2_Start = 50
Trailing_Stop_2 = 40
Min_High_Low = 200
Max_Spread = 15
3. Aggresive
Magic = 160
Trailing_Stop = 20
Trailing_Stop_2_Start = 20
Trailing_Stop_2 = 20
Min_High_Low = 160
Max_Spread = 10
Other value is set as default