Smart 5M
The Smart 5M Expert Advisor follows a trend using its own calculations. No indicators are used. Scalping is applied in most cases.
Only an initial lot can be changed, other settings are calculated automatically. The lot size should not exceed 0.01 per 500 cents on a cent account and 0.01 per 500 dollars on a dollar account. However, it is recommended to set at least 0.1 for more accurate calculation of subsequent lots. For example, suppose that you have $500. In that case, it would be better to create a cent account with the deposit of 50 000 cents with the lot size of 1.0, rather than a dollar account with the lot size of 0.01.
The EA has been created for EURUSD. However, it may work on other symbols as well. The robot works with both fixed and floating spreads, though the former ones are preferable.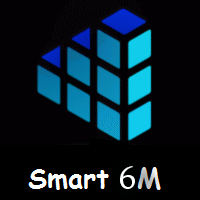 Smart 6M
Ella Kozorezova
The Smart 6M Expert Advisor trades by trend, without indicators, according to its own calculations. Scalping is mainly used. The initial lot, trading aggressiveness coefficient, stop loss, DeltaTP and programmatic stop loss Everything else is calculated automatically. The lot size must not be greater than 0.01 per 1000 cents of the deposit on a cent account and, respectively, 0.01 per 1000 dollars on a dollar account. Settings Lot0 - the initial lot. AggresKoef - trading aggressiveness coeffic
10 USD