AH ScriptBuy
I find the lot calculation tedious so I just use this script and tell it the dollar amount to use. It then does the rest. This works for any currency.
How-To:
Open a buy position using the desired dollar amount instead of lots.
To use, just drop it onto a chart and set inputs as needed.
Inputs:
FIXED_DEAL_AMOUNT: Fixed amount to use per trade e.g 100 to open a R100 deal
USE_SL_ON_BUY: If true then a suitable stoploss will be used, else no stop is placed but can be placed manually after opening position
One can also set a global variable '_Symbol+_MAX_SPREAD' to set max spread limit for each traded instrument.
e.g For EURUSD the global variable would be: EURUSD_MAX_SPREAD
e.g For Nasdaq 100 the global variable would be: Nasdaq 100_MAX_SPREAD
Code:
The source code for this script is available at https://www.mql5.com/en/code/33184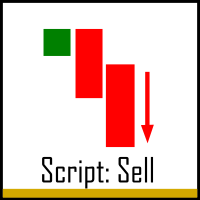 AH ScriptSell
Wait4Signal
I find the lot calculation tedious so I just use this script and tell it the dollar amount to use. It then does the rest. This works for any currency. How-To: Open a sell position using the desired dollar amount instead of lots. To use, just drop it onto a chart and set inputs as needed. The script will then do the necessary lot calculation and open the trade. Inputs: FIXED_DEAL_AMOUNT: Fixed amount to use per trade e.g 100 to open a R100 deal USE_SL_ON_BUY: If true then a suitable stoploss
FREE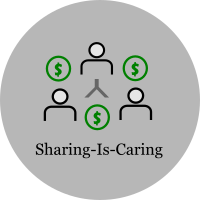 SharingIsCaring Trade Copier
Wait4Signal
sharing-Is-Caring Trade Copier Features Local & Remote copy One tool can act as provider or receiver of trades Co-exist with other positions opened manually or from other expert advisors Can be stopped and restarted at any time without any issues such as deals getting closed mysteriously Copy same lot or adjust according to your balance and leverage Partial close/open Manage max funds to use One provider can copy to unlimited number of receivers One receiver can copy from unlimited number of
360 USD