ClusterDelta Footprint
Indicator Footprint allows us to see cumulation and distribution of market volumes. It give us possibility to do accuracy tradings based how volume was spreaded.
26 wide known market derivatives (exchanges, energy, metals, indexes etc)
timeframes from m1 to w1
custom Range-bar charts
builtin profiles
there are some advatanges
graphic user-friendly interface
scaling charts for high-volatility markets
custom chart settings for current purposes
Note: indicator #Footprint is developed for maximum convenience in usability but it is still indicator and is not stand alone application. Also you should know that term Footprint commonly used with term Order Flow.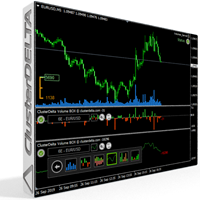 Volumes ClusterDelta
Denys Shelashskyi
交易量ClusterDelta是MQL市場系列的指標,以顯示國際市場的實際交易量! (不使用內置的刻度線卷!) 該指標與Volumes_Server Expert一起使用。 指示器以不同方式顯示體積數據。 有體積直方圖,增量,要價/出價,累積增量和累積體積直方圖的兩個視圖。 有有用的圖形界面,可讓您選擇直方圖類型。 由於數量來自期貨市場,因此應在適當的貨幣對上使用(交叉貨幣對沒有交易量)。 在有用的圖形面板中也可以選擇儀器。 實際交易量是市場活動的視圖,交易者在此交易中購買或出售活動物。 因此,交易量行為模式允許您向交易系統添加一些信號。 該指示器具有警報系統,因此當它觸摸警報級別時,它將播放聲音文件,或者可能向您的手機發送PUSH消息。 該指標是根據MQL Market的要求設計的,僅在專家Volumes_Server附加到終端中的任何圖表時才起作用。 Volumes_Server Expert -  https://www.mql5.com/en/market/product/42413
FREE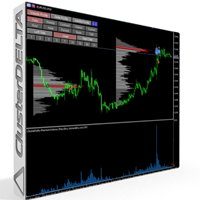 Volumes Server
Denys Shelashskyi
用於MetaTrader的產品ClusterDelta-這是一系列指標,可為終端MetaTrader提供真實的市場交易量。使用來自國際交易所的期貨量。交易者使用交易量,交易量直方圖,變化量,累積變化量等七年以上。 適用於MQL Market的ClusterDelta是一系列適合MQL Market要求的指標。指示器不需要任何其他調整,也不需要授權或不允許DLL導入調用。專家的價格是為MQL Market訂閱ClusterDelta服務的一種替代方式,與此同時,該系列的所有指標均可免費下載和與該專家一起使用。 Volumes_Server是從ClusterDelta項目的數據服務器下載用於MQL市場的ClusterDelta系列指標數據的專家。 指標向專家發出請求,專家(使用WebRequest)從ClusterDelta服務器請求數據,並將數據發送回指標。指標使用此數據顯示體積直方圖或其他類型的數據,例如增量。 專家還可以使用縮放功能直接在圖表上顯示體積直方圖。 MQL市場的Clusterdelta系列指標列表: Volumes_ClusterDelta-用於
40 USD