JabrixScalper20
I am Trader and Professional mql Programmer with more than 10 years of experience.
Now I am back to publishing JabrixScalper 2020 with new performance and excellent strategy using dynamic algorithms. This robot observes price movements with a high degree of accuracy in capturing volatility and the speed of price movements to determine the right time to enter the market. JabrixScalper 2020 is more aggressive because I am Adding Generate Signal from default Indicator to This EA.
A excellent strategy is to use pending buy and sell orders to maintain one another's orders. The order escort continues until it is safe to be released.
Recomendation pairs : Runnng simultaneously on 5M timeframe EURUSD, GBPUSD, USDCAD, USDJPY (if possible Spread below 1 pip)
Just Setting VolatileThreshold = 2 for EURUSD and USDJPY VolatileThreshold=4 for GBPUSD and USDCAD
Attention :
Use Jabrix Scalper 2020 EA on Good Broker with Low Spread, Low Stoplevel, and Low Slippage
trades will be protected by stop loss. Tight trailing is implemented.
You can start to trade with $ 100 Minimum initial Deposit
The recommended account leverage is 1:300 or more
VPS hosting 24/7 is strongly advised.
Parameters :
MagicNumber = 2020 - used to identify an order.
OrderCmt = jabrix - comments on each trades.
Stoploss = 8- Stoploss size in pips. 8 is 8 pips.
TrailingStop = 2 - trailing stop size in pips.
TrailingStart = 3 - Start for running trailing in pips.
Distance pending Order = 3 - Distance in pips for pending orders.
MaxSpread=2 - maximum spread accepted to trade in pips.\
VolatileThreshold = 2 - Setting for Entry Tringger. Valid Value from 1 to 6.
Autolots = true - set to enable auto money management. If false, Fixlots is used.
Risk = 2.0 - risk value for trades.
Fixlots= 0.01 - lot value used if Autolots is false.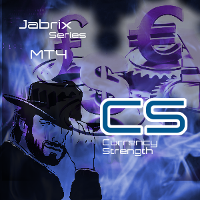 JabrixCS mt4
Eko Rahmadi
JabrixCS - Currency Strength Daily Session Indicator   This indicator allows you to analyze the hidden trends and correlations between the 8 most traded currencies via unique strength meter.  Calculations to determine the strength of the currency on the JabrixCS provided the option of using either PriceClose or Price from Moving Averange " The Power of this concept (JabrixCS) , you can see easily and very clearly the currency movements in each session that you specify " Settings Main Settin
40 USD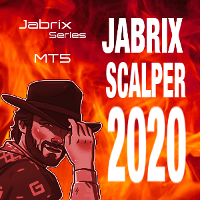 Jabrix Scalper mt5
Eko Rahmadi
I am Trader and Professional mql Programmer with more than 10 years of experience. Now I am back to publishing JabrixScalper mt5 version with new performance and excellent strategy using dynamic algorithms. This robot observes price movements with a high degree of accuracy in capturing volatility and the speed of price movements to determine the right time to enter the market. A excellent strategy is to use pending buy and sell orders to maintain one another's orders. The order escort continu
1 000 USD
Add calculation trend power
Fix minor bug algorithm for some broker
Adding News Filter
Fixing Coding of Algorithm