EasyPen Free
这是 EasyPen 的演示版本。它被设计用于,以漂亮、创新的方式来创建和管理您的所有图表分析,随笔,注解以及更多。该应用得益于新的 MQL5 所提供的在其它旧版 MQL 中从所未见的技术。
一款应用改变所有。
目前没有存在的绘图应用,可以达到 EasyPen 的定制水准。改变画笔颜色, 选择笔刷大小, 保存绘图, 保持绘图在指定位置和图表, 以及更多。利用超过 210 种颜色和 6 个笔刷大小, 您可以制作您希望看到的任何事物。
简洁与功能性
EasyPen 是漂亮和易用的。界面简洁、直观,但在其温柔外表的背后,EasyPen 可产生强大生产力冲击!用画笔来表达您自己, 可定制多色彩和线宽。
特点:
在图表上绘图;
使用 "填充" 功能改变大型区域颜色;
在图表上添加您喜好的指标, 并在它们之上绘图;
希望更大 - 滚动您的图表并继续绘制。您之前的绘图将被加载到图表上,并且不会消失;
通过鼠标在屏幕上点击,简单的删除;
保存您的绘图,并在以后出示给您的朋友;
选择您希望的任意颜色 - 此处有它们的全部;
选择 6 个不同的笔刷大小;
平滑和快速绘图;
独立背景色。
EasyPen 提供了不同于任何其它的体验和功能,儿童与环保友好,信誉出品,已获得五分之四交易者的推荐。来试试 EasyPen 吧!
版本 1.2 中的改变
修复绘图不能附加到图表的错误;
加入 '填充' 功能。
版本 1.1 中的改变
EasyPen
Karlis Balcers
EasyPen is designed as beautiful and innovative way to create and manage all your chart analysis, scribbles, notes and more. The app takes advantage of new MQL5 technology to offer an experience unseen in the other apps or in older MQL versions. An App That Changes Everything There is no existing drawing app that allows the level of customization that EasyPen offers. Change color of your pen, choose brush size, save drawings, keep drawings attached to specific position in chart, and more. With o
10 USD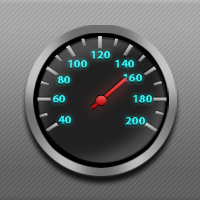 TickSpeed
Karlis Balcers
Indicator to measure market activity and to show speed of price in pips/sec. Have you been wondering, what is current speed of the market?   I see the ticks jumping up and down, can I measure their speed? All these questions can be answered by Tick Speed v1.0 - good looking indicator with good configuration possibilities. It will show you directional movement speed in ticks per second or in time defined by you! Good for scalpers, good for long term-traders. Good for beginners, good for pros. T
10 USD
Fixed issues caused by updates in MQL5 language.