Trend indicator IECO
The indicator is based on moving averages crossing the same period.
It allows:
Receiving data on the current trend. The indicator color informs us on the current trend. By default, green means a bullish, while red means a bearish trend. The indicator changing its color means a buy/sell signal;
Build accurate support/resistance lines. Resistance levels are based on detected outstanding histogram peaks. The levels are built by Close prices of candles forming appropriate outstanding peaks;
Detect reversal zones on the chart using the divergence signal.
The indicator allows you to quickly detect standard technical analysis patterns, such as flag, triangle, etc.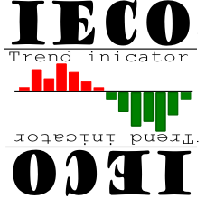 IECO trend Indicator
Yurii Guido
The operation principle of this indicator is as follows: using the intersections of moving averages with the same period. The period is user-defined. One of the moving averages is based on Close prices, the other is based on Open prices. The indicator signals are generated when the indicator color changes. By default, green is for bullish trend, red is for bearish trend. When the indicator color changes from red to green, buy orders can be opened, when it changed from green to red - sell orders.
30 USD