Bernhard Schweigert
10 TRADE RULES (updated)
================================================
I am often asked for trade rules list. They are all mainly posted in my blogs and threads but we can put it again together. Email me to get all the important links and manual (BernhardFXcontact@gmail.com). I do not want to rewrite the Bible, some liberty is important. It is up to the trader how he trades and how it fits his personality because psychology is important in trading.
================================================
1) Stay in trend of higher timeframe currency strength (go higher timeframe until line smoothes out and get direction of base and quote currency)
2) Trade on strong angles (like the range of currency strength from Market Fib 23 to zero, or speed/impulse trigger above 20-25)
3) Avoid flat market. (Market Momentum line not below Market Fib 23 / Intraday: M5)
4) Do not trade outside GAP if a currency is over or under Market Fib 100/-100 but wait instead for a flip and trade the pullback with inside GAP.
5) Check supply demand zones, do not trade against if it is not enough place for the target. (Especially the higher timeframe zones)
6) Always use a stop loss!!! Keep it behind a level like highs or lows or S/R. (A logic level that would invalidate your trade.) Avoid a fixed number of pips.
7) Try to find SL on lower timeframe and TP at higher timeframe, this gives you better reward/risk. Do not place your SL on entry levels! Try to be better than 1:1. I did even target 5+ times bigger TP than SL but it needs good entry and experience. When using a big target you can trail the SL from time to time when appears a lower high or higher low.
8) Cut your losses soon and let your winners run. This is very important! Beginners like to do the contrary.
9) Avoid red news if you are a beginner. Close your profits before the news or trail the SL.
10) Last but not least Money Management: be conservative, do not risk more than 1% on each trade (measured on stop loss and lot size). It lets you stay in the game.
================================================
For a beginner Advanced Currency Strength28 is the best start you can do.
Complete your trading with above mentioned indicators:
ACS28 user manual:
https://www.mql5.com/en/blogs/post/697384
Get it here:
https://www.mql5.com/en/market/product/13948
Impulse user manual:
https://www.mql5.com/en/blogs/post/697135
Get it here:
https://www.mql5.com/en/market/product/18155
*********************************************
A complete trading strategy! Start to make profits now!
*********************************************
Get it now!
With the Best reviews!
https://www.mql5.com/en/market/product/20582#!tab=reviews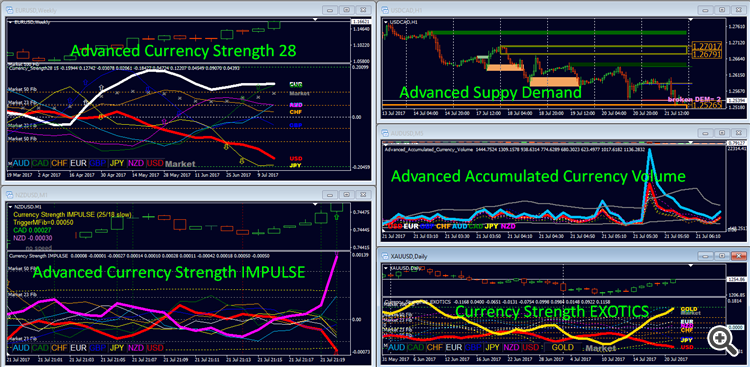 · 3