Visão global

Comentários (5)

Discussão (8)
Easy Position Size Calculator
The EASIEST way to manage your risk for each trade!
Simply:
Add the indicator to your chart, configure a risk percentage (of account equity)
Enter the number of pips for your stop loss into the text entry field that appears on the chart
The position size to take will automatically be updated
The product features two modes - a compact mode which allows entry of stop loss pips and shows the resulting lot size based on the percent risk setting, as well as an expanded mode that also shows the spread, the required margin for a position size and shows the risk in both percent and account currency.
Other inputs allow you to control the color of the background and foreground of the indicator so you can match it to your preferred chart colors.
Os compradores deste produto também adquirem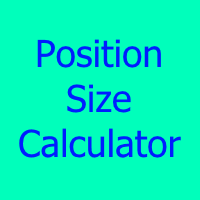 Easy Position Size Calculator MT5
Johan Venter
The EASIEST way to manage your risk for each trade! Simply: Add the indicator to your chart, configure a risk percentage (of account equity) Enter the number of pips for your stop loss into the text entry field that appears on the chart The position size to take will automatically be updated The product features two modes - a compact mode which allows entry of stop loss pips and shows the resulting lot size based on the percent risk setting, as well as an expanded mode that also shows the spread
10 USD