Visão global

Comentários

Discussão (7)
Navigator
Navigator looks for the most similar cases in history and makes a forecast on the further movement.
Parameters
Sample - the number of the last bars of a specimen (similar case in history) the indicator will look for.
MaxBars - maximum number of bars in history for searching a similar case. This parameter is used to accelerate the indicator calculation and cut off the oldest part of history, as the market is changing over time. If MaxBars value exceeds the number of bars in history, the search is performed on all the available history.
Scaling - scaling function; if Scaling=true, the indicator looks for a similar signal pattern; if Scaling=false, the indicator looks for a speciman similar both by a signal pattern and an amplitude.
Application
When hovering the mouse cursor over the indicator line, the date of a similar case and the total number of bars on the chart are displayed.
It is recommended to apply Navigator to several timeframes or different symbols simultaneously. Navigator provides clearer signal when readings from different data sources coincide. The indicator application cases are displayed on the screenshots. Please note that Navigator may make mistakes, as it displays only past events. Do not enter the market if the indicator readings do not meet your expectations. If you know a shorter path to profit, then follow it. The shortest way is the one you know best.
Os compradores deste produto também adquirem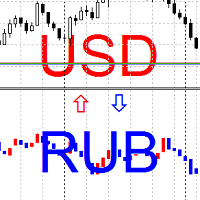 FORTS Converter
Sergey Chalyshev
The indicator converts the price of an instrument quoted in dollars into rubles. Conversely, for ruble-quoted instruments it draws a dollar chart. The conversion directions should be selected in the indicator settings (USDtoRUB or RUBtoUSD). The indicator is only intended for use on FORTS. Candlestick tails (high and low) are calculated inaccurately. It is better to use open and close prices.
FREE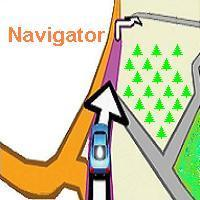 Navigator MT4
Sergey Chalyshev
The Navigator indicator enables you to determine the correct direction of the price and target movement. It checks the history for a similar situation and shows further development of events. Indicator Parameters Sample  - number of the last bars in a sample the indicator will search for. MaxBars  - maximum number of bars in history for the sample search. This parameter is used to exclude very old historical data as the market changes over time. If the MaxBars value is greater than the number
50 USD