Free Pin Bar Trader 1
Pin Bar Trader
This is a simple and free version of Pin Bar Trader.
This version is limited.
You can set the pin bar pips from high to low, so the EA only trades this pin bar and greater.
Example: You set the pin bar pips to 30 pips. Less than 30 pips pin bars will be ignored. 30 pips and greater pin bars will be traded.
Trade Settings
Lot Size
Stop Loss
Take Profit
All listed settings are customizable.

If a bullish pin bar has formed, the EA opens a long order and vice versa.
Full Pin Bar Trader is coming soon.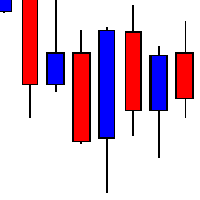 Candle Type Detector
Abbas Makki
Candle Type Detector This indicator will help you indicate the type of candlestick pattern and will help you indicate whether the candle is bullish or bearish. Types of candlestick patterns: Hammer Bar bullish or Bearish. Engulfing Bar Bullish. Engulfing Bar Bearish. Morning Star. Evening Star. Download the indicator from the market for free. Attach this indicator to the chart. It can be used with all time frames.
10 USD
Advanced Pin Bar Trader
Abbas Makki
Getting Started Trade pin bars the way you love! Fully customizable EA with risk management, automatic stop loss and take profit calculations as well as different market entry types. Working balance : This is the account balance without counting the trades having the same symbol and magic number as the EA instance. Total risk : This is the total all-time amount that the EA is allowed to lose. It is calculated as 'Total risk' percent of the 'Working balance'. Today's target : This is the target p
35 USD