概要

レビュー (3)

コメント (18)

最新情報
Kappa Trender
Kappa Trender is a unique indicator that will recognize trend direction and give you dynamically changing values for stop loss accordingly to further market movements and unique target calculations (take profit or trailing stop loss) based on last market movements.
Even if you miss the signal (or close last trade at TP), this tool will give you range of price where you can re-enter with good risk-to-reward relation or you can enter manually and use current stop loss and take profit values.
How to use it:

Enter at signal occurrence with stop loss moving accordingly to channel line value (info panel) and hold it until next signal occure. If price breaks channel line and hit stop loss you can put pending order at re-entry value (info panel)
Basically same as 1 but if price will close above target line (or below regarding to direction), set there stop loss (target mode = stop loss), if channel line exceed it return to SL = channel line. If price will hit SL then you can seek opportunity in re-entry zone (between channel line and re-enter line) or re-enter manually using current channel line value for SL.
Basically same as 1 but with take profit usage. After enter, set take profit at target value (info panel). Same as 2 - when price hit TP then you can seek for opportunity in re-enter zone or re-enter manually using current SL and new TP level.
(MOST EFFECTIVE) Same as 3 but enter with multiple orders and set different TP level for each one of them accordingly to current target and target progression value (info panel) or reduce order partially.
Your own methodology - this is only a tool that will give you some informations about market and additional reasons to take position (or not) or how long to hold it in profit if You catch the trend. Even if you have your own methodology of entering and exiting trades you can use it as additional tool to determine current trend and potential take profit levels.
Info panel

Signal proximity - less value means higher signal occurrence probability.
Target - last value of target line.
Target progress - target line progression (in points) if exceeded.
Channel line - last value of channel line.
Re-entry line - last value of re-entry line (with channel line creates re-entry zone).
Channel lines refeers only to bid values so in case of sell orders, stop loss level should be corrected by current or average spread value. Re-entry line is calculated with given avg spread value when necessary.
Some further explanations in comments section:
Inputs:
Main parameters:
Signal period - number of bars used to calculate signal occurrence (recommended value between 5-20 but can be much higher on lower time frames)
Channel period - number of bars used to calculate channel edge (stop loss value). Lower value give faster progression but will be often broken by price.
Re-entry factor - determines direction and size of re-entry zone (negative values draws opposite zone).
Average spread - average spread value in points (if 0 then current spread value is obtained).
Target factor - multiplier in target line calculation.
Target type - type of target line progression.
Stop Loss - progression when close exceeds value (new SL level after breakthrough).
Take Profit - progression when low/high exceeds value.
Additional options:
Notifications on signal - send notification after signal occurrence.
Alerts on signal - pop-up terminal alert after signal occurrence.
Visual parameters:
Channel blocks drawing - if true, draws colored blocks on each bars accordingly to trend direction from channel line to last low/high.
Channel blocks heatmap - if true, use gradient colors (overrides buy and sell channel color)
Info panel X - position of info panel in X-axis
Info panel Y - position of info panel in Y-axis
Other parameters are simply styles and colors (grouped and named accordingly).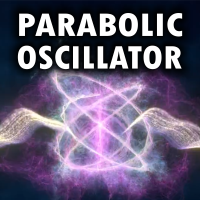 Parabolic Oscillator
Artur Brud
Parabolic Oscillator is based on Parabolic SAR and Stochastic Oscillator indicators. The Parabolic SAR determines the main direction of the trades (opens and leads one position at a time between reversal points) and next positions are added on the basis of the Stochastic Oscillator (used in a non-typical for this indicator method). Additional modules LOT_PROGRESSION - increases the STOCHASTIC_LOT value for each subsequent position by the smallest possible step starting from the base value. Thi
40 USD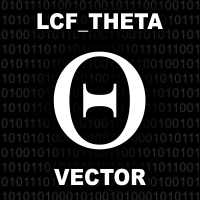 LCF Theta Vector
Artur Brud
LCF Theta Vector is mid/long term return EA based on custom variation of RSI indicator in assistance of vector algorithm and built-in AUTO_OPTIMIZER module that allows for dynamic adaptation to current market conditions (no user calibration needed) - the specific result is chosen on the basis of several different coefficients. EA can be run on different symbols and timeframes but for reducing demand on computing power, internal parameters are narrowed and it is highly recommended to run it on th
342.16 USD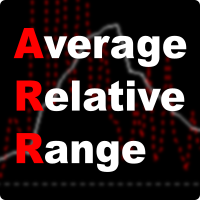 Average Relative Range
Artur Brud
ARR indicator is similar to ATR but it returns percent range in relation to open price of given bar. It is mostly useful for cryptocurrency symbols where ATR ranges from years ago can't be directly compare with current values. First buffer (red dotted line) represents percent range of single bar and second buffer (white solid line) represents simple average of defined number of last bars. Only one input, PERIOD relates to number of bars used for average calculation (in default equals to 14).
FREE
Improvement of Reentry line drawing on signal bars.
1) Added additional alerts option
2) Minor bug fixes
1) Correction of re-entry line calculation (dynamic average spread value have been changed to constant value).
2) Minor visual improvements.
Minor correction of Target calculations.