Información general

Comentarios

Discusión (16)

Novedades
Forecast Indicator
Non-repainting Forecast Indicator is a great tool for trading, which accurately produces great signals and helps traders to predict the direction of trend. This indicator is made from its own mathematical algorithm and some common technical indicators. Forecast Indicator does not repaint. It produces signals at the beginning of the candle. Signals never disappear at the current candle after it comes out.
Inputs and Settings
X = 2; Y = 2; Z = 2; X, Y and Z are optional settings to create signals.
Alternative Settings (2,1,1) (2,1,2) (3,1,1) (2,3,3); Except default settings, I prepared 4 other settings too. You can change these settings differently from which I recommend.
Alerts (On=true, Off=false); If you want to turn on, change it as "true". Otherwise, you can change it as "false"
Alert_On=true; This is for screen alert.
Send_Push=true; Only for mobile notification.
Send_Mail=true; Only for e-mail notification.
Los compradores de este producto también adquieren
Otros productos de este autor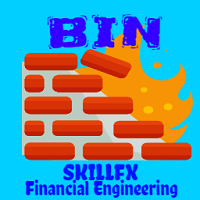 Bin
Bilal Tokdemir
Bin  is a hybrid robot, that can behave like a scalper and also a trend follower. For best results, use 3 or more currencies. For micro lot (0.01) and 1/100 leverage, you can start with 150 USD for each currency. Strategy ; Uses momentum to decide market direction. Life time for any position can vary from some minutes to days. Bin behaves like a scalper when there is possibility to make profit in short time, or waits for some days like a trend follower. Multi Currency ; Choose best performing pa
650 USD
V2.0
General improvements