Información general

Comentarios (1)

Discusión

Novedades
Santa Trader
Santa Trader is back!
A multi-strategy EA, simple and complete, to automate your strategy on any asset. It's the most complete tool on the market to build an autonomous trading strategy.
You can choose one of the built-in strategies or you can build your own strategy, telling the EA when you want to enter and exit a position.
Do you have an indicator and want to use their signals to enter or exit a position? Or even, do you have an indicator and want entries to be filtered based on it?
No problem! Santa Trader can instantiate and read any indicator buffer, you can set them to be used as filters or as entry and exit signals.
Stop wasting money buying several different EAs, just acquire one and automate as many strategies as you like. We help you to configure your strategy.
Feature Highlights:
Multiple built-in Customizable Strategies
Trading Time
Trading Days
Customizable Entry
Customizable Exit
Pending Orders
Stop Loss & Trailing Stop Loss
Take Profit & Trailing Take Profit
Break-Even
Partial Entry & Exits
Volume Management
Martingale Management
Financial Management
30+ Built-in Indicators
Manual Buy & Sell Filter
& Much More
Los compradores de este producto también adquieren
Otros productos de este autor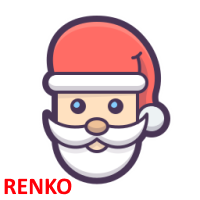 Santa Renko
Marco Aurelio Cestari
Simple   and   Free   Renko Chart Generator. Just place the EA on the desired symbol, configure and hit OK, your Renko Chart is generated. You can attach any MT5 compatible indicator or template to the renko chart and perform your technical analysis. Settings: Origin Symbol Custom Symbol Type (Pips, Ticks, Points, R) Brick Size Show Wicks Brick Open Time Asymmetric Reversals Chart Mode Refresh Ratio Watch Market Book History Start Date History Type (1 minute OHLC, Real Ticks) * Strategy Teste
FREE
Main News:

- Guards Implemented (Initialization, Entry, Stop Loss, Take Profit)
- Break Even Universal
- Partials: Universal Distance
- Calculated Variables
- Offset and Expiration of pending orders
- Pending Take Profit, Stop Loss and Partials (Beta)
- Several new functions and variables to be used in expressions
This is a major update!

- Aroon Oscillator Indicator Added
- Chaikin Indicator Added
- Heiken Ashi Indicator Added
- Moving Averages Slope Indicator Added
- Oscillator Strategy Added
- Visual Resources Settings
- New settings on Price Channel Strategy
- Heiken Ashi Added to Trend Strategy
- Refatored Trading Time
- Trading Days Added
- Martingale Added
- Refatored Universal
- Universal Stop Loss
- Universal Trailing Stop
- Universal Take Profit
- Universal Trailing Take
- Universal Exit conditions
- Refatored Universal Variables (They are grouped now)
- Universal Filters
- Guards
- Temporal Stop Loss
- Target and Limits improved
- Indicators: Added "Candle for validation"
- Pending Entries Deviation added
- Cross Order Added
- Lot of minor features and improvements
- Lot of bugs fixed
- Fixed automatic Magic Number
- Fixed some typos
- Some other small fixes
- Completed compatibility with Hedge accounts
- Added Volume Management
- Added Partial Entries
- Renamed "Bands/Channels" strategy to "Price Channel"
- Renamed and refactored "Price Action" strategy to "Universal"
- The "Universal" now allows external indicators as a filter and as entry/exit signals
- Added formatting of the financial values ​​of the panel
- Added option to define the number of candles in which the pending order will be active
- Added option to close positions when reaching maximum profit or loss
- Added option to use the "Envelopes" indicator in the "Price Channel" strategy
- Added option to extend the signals received from the indicators
- Added the possibility to access any indicator buffer in the "Universal" strategy
- Added the name of the setup on the panel
- Added guiding lines in the indicators according to your settings
- Added possibility to cancel operations by the lines shown in the graph
- Added new variables and functions to be used in the "Universal" strategy
- Fixed several bugs, many related to Hedge accounts

Added indicators:
- Coppock
- Force Index
- SRSI (Sell Relative Strength Index by Howard Wand)
- Volume Average

Removed indicators:
- Power Trend
- Perfect Trend
- Trading The Trend

And many other small things and bugs fixed.
Universal Strategy released!
Now you can use any external indicator as your entry & exit signal!
All price action arrays are avaliable here to be used in entry/exit condition, plus configured universal buffer arrays.

- Fixed CCI Filter
- Fixed MACD Filter
- Fixed indicators that aren't being displayed on chart
- Improved backtest performance
- Other minor fixes
Hotfix: It was not possible to open operations in brokerages that did not provide the last price.