Información general

Comentarios

Discusión
BBMA Intraday Signal Indicator
BBMA Intraday Signal Indicator
This Indicator Consist of 3 types of Signal :
1)Momentum
Momentum is the initial signal of a market that is starting to have the strength to move. This Momentum is marked by a close candlestick outside the expanding BB Top/BB low. Momentum are signals to prepare for entry. If there is Momentum on Top BB, we have to wait Reentry Signal first to make an Entry Buy.

2)Extreme
Extreme is the EARLY SIGNAL of the movement beginning to end, meaning it is the initial signal telling the market to reverse the meaning is not yet exactly confirm for market reverse, Extreme is just a signal, not a setup.
3)Reentry
If there has been a significant uptrend or downtrend in prices. It will usually be followed by the formation of a sideway/ranging pattern. Then this is where the Re-Entry setup is formed. Use this Signal to Trade.
Disclaimer: this is an indicator scanning the current setup based on BBMA method. Please take your own risk if you take the signal as an Entry to your trades. Understanding the basic of BBMA Method are recommended .
any question or suggestion : Telegram @SyafiqSNF
TREND TABLE
MultiTime- Frame signals. Based from BBMA System of Trends.
TakeProfit
Based from daily ATR of 7 Days.


Los compradores de este producto también adquieren
Otros productos de este autor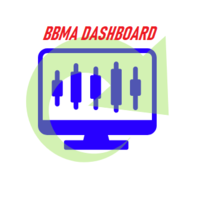 BBMA Dashboard Fx
Muhammad Syafiq Bin Mustapa
BBMA Dashboard Fx   This is a   Multi pair  and   Multi time frame  dashboard. The founder of the system is Mr. Oma Ally, which is a system based from Bollinger Band and Moving Average( BBMA ). BBMA consists of the use of 2 indicators: Moving Averages Bollinger Bands BBMA consists of 3 types of entries: Extreme MHV Re-Entry  This Dashboard Help you to scan current Extreme and Reentry setup ( MHV not included). The features of BBMA Dashboard : 1.Current TRENDS in Market Based on BBMA method.
60 USD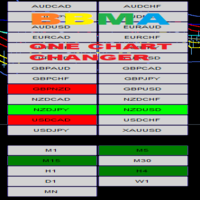 BBMA One Chart Symbol Changer
Muhammad Syafiq Bin Mustapa
This is Mini Dashboard of BBMA with Reentry Signal and Trends. *More convenience to change any symbols in One Chart. *Multipairs and Multi Timeframe Reentry Signal : Are based on BBMA Method . You can select any Time Frames to scan the current signals of Reentry. RED BUTTON = REENTRY SELLS GREEN BUTTON = REENTRY BUY Trends : Multi Time Frames Are based on BBMA Method.  GREEN BUTTON = TREND UP RED BUTTON = TREND DOWN. Inputs: MultiPairs : any list of symbols. Options to attach indicator on
30 USD