Información general

Comentarios

Discusión

Novedades
Probability Tool Suite Elite
The elite (V3) multi-indicator suite from JoaquinTrading specifically geared towards Forex & binary options, including regulated exchanges such Nadex, Cantor Exchange, and other binary option brokers.
The Probability Tool Suite Elite will provide the given win/loss outcome probabilities of up to 10 strike levels, a specific expiration duration, based on a combination of up to 16 indicators, rules, or conditions and derivative behavior (i.e. expiry, touch, touch & retrace). Using this indicator will give users an idea if a particular indicator combination and its parameters will give the user(s) an edge in the long run.
Setting up the various combinations can be easily done via the graphical user interface menus; the settings can be saved and loaded for later use.
Signals generated in real-time can provide pop-up alerts, email alerts, and/or SMS (via MetaQuotes ID). Such alerts can also be enabled/disabled for specific strike levels shown. The suite panel can also be hidden to keep the chart completely visible.
Indicators included are:
- ADX
- Aroon
- Bar Run (sequence of up/down bars)
- Bollinger Bands
- Candle Patterns
- CCFp
- CCI
- Heiken Ashi
- Ichimoku
- MACD
- Moving Averages
- New Trend Arrows
- Parabolic SAR
- Pivot Points
- Rate of Change
- RSI
- Stochastic
- Trend
Each indicator has many different ways they can be used or combined with other rules/conditions. For example, one can take a Stochastic cross at overbought/oversold when the 10 SMA/20 SMA are lined up while the ADX is above 25.
Signals can be filtered by direction, hours of the day, days of the week, or month. Further filters can also include taking signals only after what would have been consecutive losses, if chosen to do so; if this option is enabled, strike levels that do not qualify will not display for the signal in question.
Derivative Behaviors include:
- Expiration in the money
- Expiration without price touching the ITM strikes
- Expiration between two levels
- Level touched before expiration
- Two levels both touched before expiration
- Strike level reached, entered, expiring in the money
- Strike level reached, entered, expiring beyond at the money
- Forex SL/TP
The strike levels drawn extend to the bar at which the expiration time ends; alternatively, the strike levels length can be restricted to the entry's bar (so as to avoid cluttering). When using SL/TP, the levels extend until either the SL/TP is reached.
Expiration times include:
- 5 minute
- 20 minute
- 1 hour
- 2 hour
- Daily 3am, 7am, 11am, 3pm, 4pm, 7pm, 11pm, rotational of the previous six depending on the signal's entry time
- custom duration based on the number of bars out
An in-depth user manual can be found
here
.
Los compradores de este producto también adquieren
Otros productos de este autor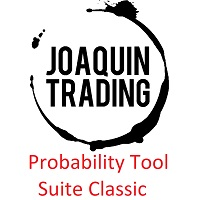 Probability Tool Suite Classic
Premier Global Holdings
The original multi-indicator suite from JoaquinTrading specifically geared towards binary options, including regulated exchanges such Nadex, Cantor Exchange, and other binary option brokers. The Probability Tool Suite Classic will provide the given win/loss outcome probabilities of up to 10 strike levels, a specific expiration duration, based on a particular indicator's parameters and derivative behavior (i.e. expiry, touch, touch & retrace).  Using this indicator will give users an idea if a
199 USD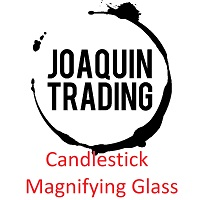 Candlestick Magnifying Glass
Premier Global Holdings
Needing to drill down further on a specific bar's behavior?  No need to open another chart!  The Magnifying Glass indicator can show the price action of a specific bar from a lower timeframe. Just hover the cursor over the bar in question and one can see the lower timeframe candles that actually make up the bar on the chart.  The candles display scaled to the actual bar that's hovered on to the bar's immediate right. There is no input parameters, the selections are done entirely via buttons
30 USD
Added six new expiration durations...

- Daily, Less than 4 hours left
- Daily, More than 4 less than 8 hours left
- Daily, More than 8 less than 12 hours left
- Daily, More than 12 less than 16 hours left
- Daily, More than 16 less than 20 hours left
- Daily, More than 20 less than 23 hours left

This is to allow for probable outcomes on multi-hour trades when it is uncertain when the signal comes out vs. testing for each scenario individually.

Also added two new indicators... the Aroon and CCFp (works with the major Forex crosses only)