Información general

Comentarios

Discusión (4)
ScaleFix
The ScaleFix indicator is designed for automatic vertical scaling of the current chart as a percentage of the High and Low.
After the indicator is attached during any price dynamics, the upper and the lower boundaries of the bars will be placed at the specified distance from the High and Low of the chart.
The indicator does not draw or display anything, the graphical objects are shown for clarity in the screenshots.
Input Parameters
Step ScaleFix: Chart fixation step. The parameter is set as a percentage of 5, 10, 15, 20 and 25% from the High and Low of the chart to bars.

Off - Disable auto-scaling
Fix5 - 5%
Fix10 - 10%
Fix15 - 15%
Fix20 - 20%
Fix25 - 25%

TradeLevel: Display the trade levels of the open orders on the chart (Stop Loss, Take Profit and pending orders)
DateScale: Display the time scale on a chart
PriceScale: Display the price scale on a chart
This indicator is part of the standard feature set of the Trading-Information panel GTC-Panel. The 'Fix' button on the panel
After installation of the indicator, the vertical scrolling of the chart will be disabled.
Los compradores de este producto también adquieren
Otros productos de este autor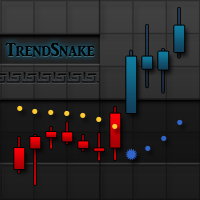 TrendSnake
Artyom Simonenko
The TrendSnake indicator is designed to detect the market trend, generate sell and buy signals, and also to determine the Stop Loss levels and market exit points. When a new sell (or buy) signal appears, the indicator does not change its value until a reverse signal appears. Signal to buy The first bar filled with green color (the Histogram, DotHistogram mode of the indicator) or the appearance of a line (the first blue dot, the Dot mode of the indicator), speak of a signal to buy. The Stop Lo
30 USD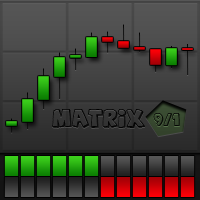 Matrix 9
Artyom Simonenko
Matrix 9/1 is a set of 9 different indicators for graphical analysis of price dynamics in the market. The indicator is implemented as colored signals, which greatly simplifies controlling the market and making decisions. Matrix 9/1 includes: The BarSignals indicator; The ClosingPrice indicator; The Percentage indicator; The PipsBar indicator; The following 5 indicators are included as a bonus! Stochastic_signals; Parabolic_signals; RSI_signals; MACD_signals; MACD_color; 1. The BarSignals indic
29 USD
GTC Panel
Artyom Simonenko
Trading information panel for fast trading on the Forex, CFD and Futures markets! Application features You can instantly send buy or sell market orders with specified volumes and also close positions with a single click. Language support: Russian, English 5 types of Trailing Stop ( Manual, Volatility, Fractals, Parabolic, BarExtrimum) 3 types of lot calculation ( Manual, percentage of deposit, percentage of the Stop Loss level) Preliminary data on the potential profit (or loss) Automatic adjustm
209.99 USD