Información general

Comentarios

Discusión (4)
Trend Runner
Forget about spending all day in front of your computer, this ea will help you to get in long term trends, it will detect the beginning of a new trend and will try to get the most of the trend.
Ea will cut the losses as soon as possible but will let you stay until the end of the trend.
Ea will trail your stop to lock your position but will let enough "space to breath" so that you don't get stopped out because of a tight stop.
Recommendations
It is recommended to have a Market Bias (Bullish or Bearish), for instance EUR and JPY currencies have been on selling pressure due to quantitative easing for two years (2013) and it is expected to continue for another 2 years (2017), so you can use this expert to get in those big trends.
This ea is not recommended for ranging markets please avoid trading them.
This ea is only recommended on a daily time frame.
EA Parameters
Winning_Improved - Open more positions in the direction of the trend when a signal is provided
Winning_Rough - Open more positions in the direction of the trend at a rough number

lot1 - lot size you are willing to trade per position
lot2 - If first position is in profit, lot size you are willing to trade on the following positions
Market Bias - If You Have a Market Bias Only Allow Buy or Sell

bullish - true/false

bearish - true/false
Breakdistance - after a signal is provided, wait until price breaks resistance/support by a certain amount of pips* to trade
DistanceBetweenOrders - if one order is already in profit open more positions after certain amount of pips*
*Distance is measured in points not in pips
Max_Orders - Maximum number of Allowed Open Orders
Los compradores de este producto también adquieren
Otros productos de este autor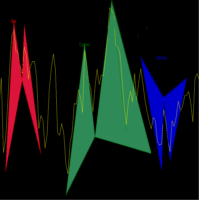 Advanced Pattern Software gartley bat and cypher
Jose Alberto Lopez
Advanced Pattern Recognition Indicator If you struggle to have a consistent strategy, this indicator is just great for you. Also known as "harmonic patterns", this indicator is a tool for those who want to take money from market when the price is just a mess. This software helps you to identify patterns such as Gartley, bat and cypher. This indicator does not redraw like all the  "harmonic software" you will find in the market. This feature gives you enough time to decide if it is a good trade o
300 USD